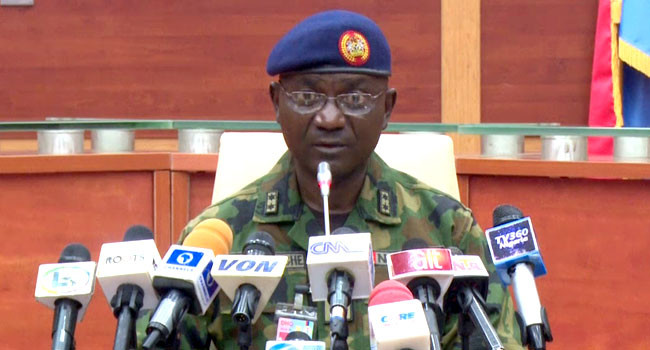 The Nigerian Military has boasted that no single territory in the North East remains in the control of Boko Haram terrorists.
This was disclosed on Friday by the Coordinator Defence Media Operations, Major-General John Enenche who noted that all territories previously occupied by the insurgents have now been reclaimed by the military.
Speaking on Channel Television's Politics Today, Enenche said the insurgents have been displaced and seriously weakened as a result of continuous onslaughts against them by the military.
"They are moving from bush to enclave and enclave to bush and no longer have any authority or sovereignty on any territory in the northeast and by extension, to Nigeria," he said while speaking on the occasion of the 2021 Armed Forces Remembrance Day celebration.
He explained further that before the President Muhammadu Buhari administration came on board in 2015, as much as 20 local governments were under the control of the terrorists but government forces have now fully reclaimed all such territories.
"The Armed Forces of Nigeria made a lot of progress last year in the area of packaging itself to further the defense of this country."
"As of 2015 before this administration came on board, at least 17 and 20 local governments were strongholds of the insurgents… by 2016 the whole of the northeast was recaptured and the government took back full authority," he said while appreciating the personnel who have had to pay the supreme price in protecting the nation.
Meanwhile, President Muhammadu Buhari has informed Nigerians to expect a significant improvement in security in the country this year.
Speaking at the Armed Forces Remembrance Day in Abuja, the Nigerian leader said the fight against insecurity will improve and Nigeria will be better for it.
He also advised the nation's service chiefs to ensure synergy and cooperation in the fight against insecurity,and ensure a more sustained focus on intelligence gathering and interpretation.
The Presiddent, however, said the welfare of the armed forces will continue to be the priority of his administration.