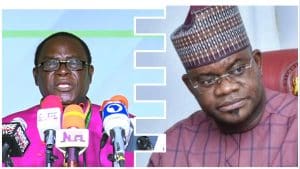 The Bishop of Sokoto Diocese of the Catholic Church, Bishop Matthew Kukah, has blasted Governor Yahaya Bello of Kogi State over his leadership style and governance in the North Central state.
During an interview on Wednesday on Channels Television's Sunrise Daily Programme, Kukah stated that Governor Bello is a poor representation of the Nigerian youths.
The Convener of the National Peace Committee (NPC) criticised the governor over the violence in the state ahead of the November 11 governorship election.
He said, "I feel very sad because Kogi has been on the front burner, and Yahaya Bello, the governor, prided himself on being the youngest governor and being a representation of what the youths of this country can do if they are given the opportunity.
"Sadly, I think he's been a very poor advertisement for what young people can do."
Speaking further, Kukah sued for peace between the leadership of the labour unions in the country and the Imo state government, adding that there should be peaceful elections in Imo, Kogi and Bayelsa.
He added: "When elections go wrong, it is ordinary people who suffer.
"I hope the labour leaders in Imo will really be more circumspect and ask themselves, 'who stands to gain and who stands to lose what?' At the end of the day, it is the people of Imo, they are not electing someone who is outside their state.
"Imo is a deeply Christian environment, and I hope their religious leaders and others with moral authority can prevail on the union to defer whatever may be their grievance; this can only be resolved in a peaceful environment.
"We appeal to them to do what is needful and ensure that elections are duly conducted. Our people have suffered enough."
The post You're A Bad Example For Nigerian Youths – Kukah Fires Yahaya Bello appeared first on Naija News.