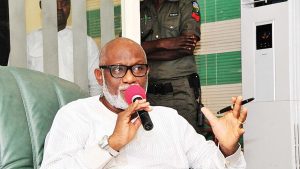 The Ondo State chapter of the Peoples Democratic Party (PDP) has questioned the decision of the Ondo State Governor, Rotimi Akeredolu to remain at his private residence in Ibadan, Oyo State since returning from Germany on medical leave.
The PDP in a statement by its publicity secretary in Ondo, Kennedy Peretei said what started as a joke has become a huge embarrassment.
According to Peretei in a statement released on Wednesday, the aides of Akeredolu should be blamed for the refusal of the Governor to return to Ondo State since his return to Nigeria.
He also questioned who was in charge of Ondo in the absence of Akeredolu who he said has gone missing in action.
In the statement titled "Akeredolu's health: How much longer must I wait?" Peretei said, "In the last few weeks, Ondo State has dominated front pages of national newspapers as well as discourse in broadcast media platforms for the wrong reason.
"Governor Rotimi Akeredolu, SAN, proceeded on a three-month medical leave, after which he returned to his private residence in Ibadan, the Oyo State capital. What initially looked like a joke soon became a major embarrassment, as the state made history where the Chief Executive was missing in action.
"When Akeredolu was abroad for medical treatment, prayer sessions were held for his quick recovery not only by Muslim and Christian clerics but also by traditional rulers, politicians across political divide, not to talk of civil servants.
"That was the level of empathy the governor enjoyed. But as the days turned to weeks and weeks thinned into months, tongues are already wagging, everybody is now asking the same question, 'Where is Akeredolu? Who is in charge of Ondo State?"
History Won't Be Kind
Speaking further, Peretei submitted that if Akeredolu is confined to a place, it shouldn't be a reason for Ondo State to also remain in a place for almost one year.
He said history won't be kind to all those with constitutional powers and responsibilities to question the Governor's whereabouts but have refused to do so.
"Illness has confined Akeredolu to one place, that will not be the reason Ondo State must be on the same spot for nearly one year. History will be very unkind to those who are holding Akeredolu hostage, taking advantage of his inability to spread his wings.
"Those asking for Akeredolu's whereabouts are not his enemies. His real enemies are those who portray him as greedily hanging on to the reins of government at the detriment of his personal health.
"At the fullness of time, all those constitutionally empowered to address this stagnation of affairs in our state but chose to keep quiet will all have a date with history. Ondo State is ill, just like Akeredolu and needs cure urgently. How much longer must I wait to see Akeredolu return to his duty post?" Peretei queried.
The post 'It Has Turned To Embarrassment' – PDP Queries Akeredolu For Ruling Ondo From Ibadan After Medical Leave appeared first on Naija News.