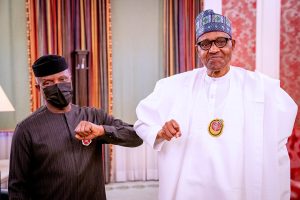 Serving Overseer of the Citadel Global Community Church in Lagos, Pastor Tunde Bakare, has asked Vice President Yemi Osinbajo to resign if President Muhammadu Buhari does not allow him to perform.
Speaking during an Instagram Live interview with the publisher of Ovation magazine, Chief Dele Momodu, Bakare stated that he does not believe reports that Osinbajo was being handicapped in office and not allowed to perform his constitutional role.
He said, "I do not know if that statement is true that he is not allowed to perform because the constitution is very clear on what the role of the vice-president of the Federal Republic of Nigeria is, especially as it relates to steering the economy of the nation."
Bakare, who ran as Buhari's running mate in a failed bid in 2011, said he asked Buhari for specific details of his role when he ran with his then political ally in 2011.
"Before I accepted General Muhammadu Buhari's offer, I said what would be my role because I am not prepared to be a spare tyre and he said to me that my role will be as prescribed by the constitution and as many other things as you can be given to do.
"I want to hear it one day from the vice-president that he is not allowed to perform. I don't like rumour and I don't like gossip. If he is not allowed to perform, I would wonder what he is still doing there because he is not allowed to perform.
"If he is content in his office and he is given responsibilities and he is discharging those responsibilities to the best of his ability, I do not believe the story that he is not allowed to perform. If that is true, let him say so and not other people saying he is not allowed to perform.
"There is constitutional role for the vice-president, it is spelt out in black and white. If he is not allowed to do that, then, what is he doing there? Because if I am enrolled as a teacher and I am not allowed to teach in that school, I will look for another school," he said.