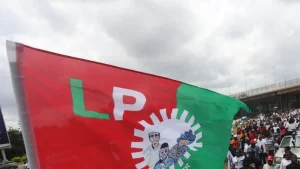 The Lagos State chapter of the Labour Party (LP), has expressed concern about the recent judgement of the Supreme Court which affirmed Bola Tinubu as the duly elected President of Nigeria.
The party in a position made known to the public on Tuesday by its State Chairman, Dayo Ekong, said it is disappointed by the court verdict, adding that the Supreme Court should be known for dispensing justice without fear or favour.
Speaking to journalists at the end of the party's State Executive Council meeting, Ekong however said the Labour Party would not be dettred by recent happenings.
She noted that the judiciary should always be the last hope of the common man but this can't be achieved without an independent judiciary.
Despite the ruling of the apex court which went against the party's presidential candidate, Peter Obi, the Lagos LP Chairman said the party would work hard to ensure what happened in the 2023 elections does not repeat itself.
"Labour Party Lagos State is deeply worried about the recent judgment that emanated from the highest court of the land and one of the most critical embodiment of democratic institutions saddled with the responsibility of dispensing justice without fear or favour.
"We at Labour Party are not deterred but rather even more determined to ensure that the events of this in the election cycle will never repeat itself.
"We shall continue to stand behind our youths in their agitations for a better and more just society that works not just for a few but for all.
"It is time for us to sit down and reflect on the future of our country," she said.
Tinubu Govt Has Plunged Nigerians Into Hardship
Speaking further, Ekong lamented the harsh economic conditions Nigerians are passing through as a result of the politics of the current administration.
She charged the government to put in place masses-friendly policies and programmes and also ensure the top officials also make sacrifices.
"A nation where multi-dimensional poverty is at its peak, no safety net for citizens and yet our so-called leaders still live in luxury, calls for concern.
"Those that decide to keep quiet should remember that we will all feel the brunch one way or the other. We at Labour Party will continue to speak up and history will vindicate us," Ekong said.
The post We Are Deeply Worried About Supreme Court Ruling – Labour Party appeared first on Naija News.