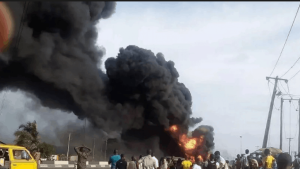 An explosion that occurred at a filling station in Oyigbo Local Government Area of Rivers State has left no fewer than two persons dead and several others injured.
It was gathered that the fire broke out while welders were working on one of the fuel tankers at Sobaz filling station, opposite Timber Market.
"Perhaps they didn't wash the tank very well before welding, that's why it exploded," a source told PeoplesGazette.
Also speaking, the spokesperson of the Institute of Safety Professionals of Nigeria, Timothy Iwuagwu said wielding a tanker whether empty or not, is dangerous and could kill the welder and people around
According to the spokesperson, manholes of petrol tankers should be opened for at least 48 hours or more, and filled with water, before welding.
"A tanker or container, whether it is containing liquid volatile organic materials or used to be a container of such, remains dangerous without carrying out some precautionary measures which includes opening the manhole to be well ventilated for at least 48hours", Iwuagwu said.