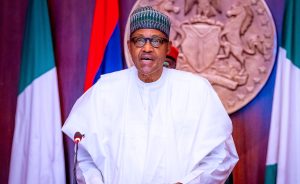 President Muhammadu Buhari has offered automatic employment to 110 ex-corps members in the federal civil service and scholarships for the pursuit of post-graduate studies up to doctoral level in any university in Nigeria.
Buhari spoke at the virtual 2018/2019 president's National Youth Service Corps (NYSC) honours award ceremony held at the statehouse conference centre, Abuja.
In a statement on Thursday by presidential spokesman, Femi Adesina, said Buhari also announced cash rewards for the ex-corps members.
According to the president, the ex-corps members were selected for their heroics in the scheme's four major cardinal programmes which include orientation course, primary assignment, community development service and winding-up/passing-out.
He ordered relevant government agencies to ensure timely implementation of all the incentives for the award recipients.
Buhari commended former head of state, Yakubu Gowon, who joined the programme virtually, for establishing the scheme, noting that it has continued to promote national unity among the youths.
He also tasked the NYSC management to remain committed to efforts to sanitise the scheme and ensure only those who meet the required criteria participate in the one-year national service.
The president urged the youth to avoid all economic and social vices that are contrary to the wellbeing and progress of the country.
Citing the N75 billion Nigeria Youth Investment Fund, the president reiterated his administration's commitment to championing issues affecting the youths.
Anyaogu Onyeyirichi Rejoice, who served in Taraba state, emerged first for the 2018 set. She also snagged the National Council of Women Societies (NCWS) award for the best female corps member in community development.
While Eze Sunday Victor, who served in Jigawa state, emerged the overall best for the 2019 set, Odion Jessica Eseohen took the 2nd position in NCWS award for best female corps member in community development.