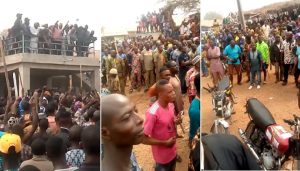 Residents of Igangan in the Ibarapa area of Oyo State has amid chaos rocking the community, presented to the police and government representatives proofs of millions paid to Fulani herders terrorising their territory.
Naija News understands that the development follows the call for the arrest of Yoruba activist, Sunday Adeyemo Igboho, better known Sunday Igboho after his disciples stormed the home of Seriki Fulani, Salihu Abdukadir, to send him out of the land.
The order was given by the Inspector General of Police, Mohammed Adamu, this online news platform reports.
However, residents of the affected community in their response to the recent development accused the Fulani herdsmen of perpetrating crimes ranging from kidnappings, killings, rape to invasion of farmlands with their cattle.
Speaking to delegations from the government who visited the community to look into the lingering war between residents and the Fulanis, the Igangan community leaders revealed that a total of N50m has been collected from farmers by the Fulanis who kidnapped them in recent times.
Photos and other proofs of payment of the said ransoms were presented to the delegation, accusing also the Seriki Fulani of complicity in the negotiation of ransoms.
Naija News understands that the delegation includes officials of the state and the new Commissioner of Police in the state Command, Mrs Ngozi Onadeko.
Giving reports of the visit to Igangan community, the Chief Press Secretary to state Governor, Mr Taiwo Adisa, said the community leaders on Sunday, January 24 noted that besides paying the huge ransoms, about 15 women were raped by the herders in the town.
On their part, some leaders of the accused group who were in attendance at the meeting, pleaded for mercy, saying the Fulani were ready for peaceful co-existence with their hosts.
The Secretary of Igangan Development Advocates, Lawal Akeem, said residents of the community were tired of the antics of the Seriki Fulani of Igangan, whom he accused of complicity in different kidnap cases. He recalled how the Fulani herders also vandalised farms and raped their women.
A member of the state House of Assembly, Peter Ojedokun, who also was in attendance at the meeting disclosed that the peace in Ibarapaland had been stirred by the Fulani herders with a series of attacks.
On his part, the Caretaker Chairman of Ibarapa North-West Local Council Development Area, Okediji Olusegun, also corroborated the allegations levelled against the Seriki Fulani of Igangan, saying that the Seriki had been fingered in the series of security challenges in the area many times.
However, with all humility, the two Fulani leaders present, the Seriki Fulani of Igbo Ora, Alhaji Idris Abubakar, and the Seriki Fulani of Eruwa, Alhaji Sule Mohammed, begged for the forgiveness of the Ibarapa people, assuring them of peaceful coexistence in the land henceforth.
In another news, suspected kidnap kingpin, Chukwudimeme Onwuamadike, popularly known as Evans has denied all kidnapping allegations levelled against him by the Lagos State Government, Naija News reports.