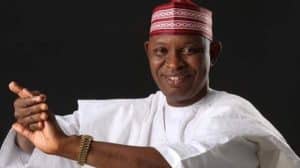 The Chairman of the Kano State chapter of the New Nigeria People's Party (NNPP), Hashimu Dungurawa, has reacted to the ruling of the Court of Appeal sacking the Governor of Kano State, Abba Yusuf.
Naija News recalls that the Appeal Court sitting in Abuja, on Friday, sacked Yusuf on the ground that he was not a valid or card-carrying member of the party.
Dungurawa, in an interview with Vanguard, said the ruling of the court shows Democracy is gradually coming to an end in the country if the Independent National Electoral Commission (INEC) recognized Yusuf as the party candidate, declared him the winner of the election, and handed him a certificate of return but the judiciary will do otherwise.
When asked whether Governor Yusuf is a card-carrying member of the party, Dungurawa said, "It is INEC that is in a better position to tell you that, because this man purchased his form from INEC, he filled and returned it back. And the same INEC declared him the winner after polling the highest number of total votes and was given the certificate of return.
"With this verdict, I will say sorry for Nigerian democracy. Because there is no how somebody goes to his community, campaign, and people give him their mandate and will get a popular vote but at the end of the day, the judges will do something else.
"You see in democracy, it is a game of numbers. There is no how people will go and cast their votes in millions and then a judge will just come overnight and cancel the votes and then another comes and says he has no powers to cancel the votes then go ahead to say you don't have a card-carrying member of the party. We are talking about membership, if that is the case, how did INEC recognize the person that contests under the platform and say is the winner after scoring so and so number of votes? And went ahead to give him a certificate of return. And even the judges sworn him into the office. And now they are coming to tell us another story. This is shameful in democracy. And how can you do such in a state like Kano where won 26 out of 40 seats in the state assembly, we won 18 out of 24 members of house of representatives, which story do you tell the people. That you want to apply some technical issues.
"With this kind of attitudes and actions by our judges, I am very sure democracy is coming to an end. Because nobody will go and waste his time to vote for anybody in 2027 because we know at the end of the day even if you win there are some judges that will deny you that right. And that is why we are saying no to the judgment and appealing to our people to remain calm and be law abiding. And we are going to take it to the next level where I think we have people of high integrity. And justice will be done.
"Because if this continue to happen in our courts, there is a danger.
"We urge the judges to fear God and know that there is hereafter. They should not monetize or sell their integrity."
The post Kano: NNPP Reveals Next Action After Appeal Court Sacked Gov Yusuf appeared first on Naija News.