Manchester City midfied maestro, Kevin de Bruyne, has denied assisting Canadian rapper, Drake to write a song in the rapper's latest EP.
Kevin de Bruyne, renowned for being an assist provider for club and country, was caught in the web of speculations that he is using his time off football to write lyrics for Drake.
The injured De Bruyne became the center of this speculation after 'K. De Bruyne' was revealed as a co-writer on Drake's new song Wick Man.
The song, which is from Drake's EP "Scary Hours 3," caused fans to hail Belgium and Manchester City midfielder as a good player who is good at assisting rappers in making hit songs as well as helping the strikers to score goals in the Premier League and international football.
However, the Manchester City midfielder took to social media to deny the speculation.
Drake's co-writer 'K. De Bruyne' is another individual unrelated to Kevin de Bruyne, the Manchester City treble-winning midfielder.
Despite that, the 32-year-old capitalized on the coincidence by joking on X that Drake "needed an assist" and sharing a photo of the two before dismissing the claim in a follow-up post.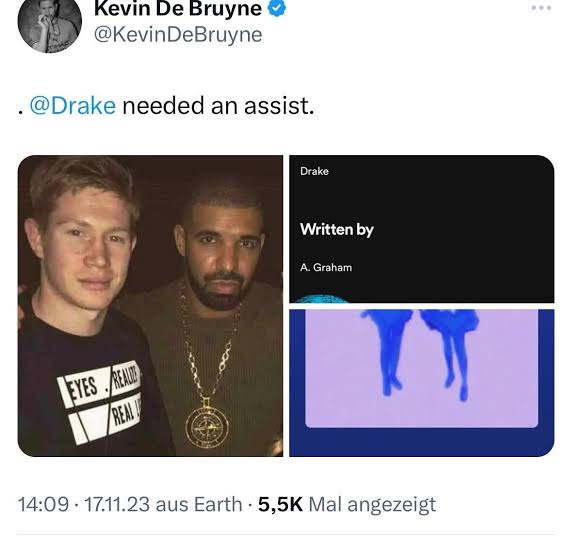 "All jokes aside, it's not me! Huge fan though!" De Bruyne wrote on social media.
Before debunking the speculation, Erling Haaland, his City teammate, replied to the Belgian player's initial social media joke with the words, "He is not alone," presumably referring to De Bruyne's injury-related absence from the team this season.
In the Premier League the previous season, De Bruyne provided eight assists to Haaland, helping the Norwegian striker on 26 of his 98 chances. But he has been sidelined with a hamstring injury since this season's first game.
So far at Manchester City, Kevin de Bruyne has recorded 153 assists, with 102 coming in the top division, the fourth-highest total in Premier League history.
With his 18 assists in the previous campaign, De Bruyne earned his third playmaker award since joining City in 2015.
The post Kevin De Bruyne Debunks 'Assisting' Drake To Write Hit Song appeared first on Naija News.