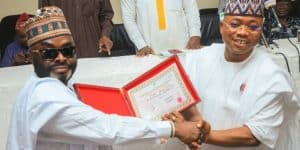 Reactions have trailed the Kogi State Governor-elect, Usman Ododo's decision to kneel and present his Certificate of Return to Governor Yahaya Bello.
Naija News reports that Ododo surprised many Nigerians with his action after he collected his certificate of return alongside his running mate, Joel Salifu.
The certificate of return was presented at the INEC headquarters in Lokoja, the state capital, on Friday by the State Resident Electoral Commissioner (REC), Gabriel Longpet.
The ceremony was witnessed by Governor Bello, some chieftains of the All Progressives Congress (APC) and a mammoth crowd of party supporters.
Shortly after receiving his certificate, Ododo went before Governor Bello and kneeled to present it to him to the amazement of many onlookers.
However, some netizens have criticised the decision of Ododo, saying that the era of godfatherism is still very much alive in the country and has affected the nation's politics badly.
See some of the reactions below.
@Tee_Classiquem1 wrote: "Godfatherism has taken over naija politics."
@dmark4real wrote: "Yahaya Bello for another eight years. Hmmmmmm. Naija 21st century politics."
@SunnetplanetC wrote: "Power is crazy 🤣 just a matter of time his true loyalty will be tested."
@legend_082 wrote: "When we were busy going to school, some unscrupulous people were busy grabbing political power. Now, they have become lords over the educated. The video there would make a great story in a Mafia movie."
@VivienVivicoko wrote: "Congregation of people who are only after their own deep pockets."
@bigfrank_123 wrote: "You guys should be worried about this type of politics. This governor's sole aim is to please Yaya and not the people of Kogi."
@MaziGomez_ wrote: "It's called loyalty in Nigeria politics 😂"
@thekingchild wrote: "The Godfatherism journey has just begun. I hope they both finish well."
@Callipers_ wrote: "We've seen this script over and over."
@obehieguakhide wrote: "The incoming governor's bow to the outgoing governor is a gesture lacking in democratic essence, painting Nigerians as backward in political evolution.
"Such acts, rather than fostering respect, risk undermining confidence in our democratic values. These symbolic gestures should align with democratic principles to inspire trust among international investors. A commitment to modern democratic norms is crucial for national progress and global partnerships."
The post Reactions As Ododo Kneels To Present Certificate Of Return To Yahaya Bello (Video) appeared first on Naija News.