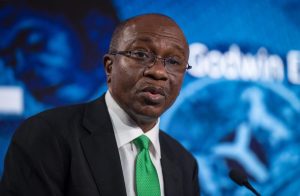 The High Court in the Federal Capital Territory (FCT), on Thursday, ordered the unconditional and immediate release of the former Governor of the Central Bank of Nigeria (CBN), Godwin Emefiele.
The court made the order after Emefiele filed a Motion Ex-parte, seeking his release from the custody of the Economic and Financial Crimes Commission (EFCC) pending the hearing and determination of the Originating Motion.
Naija News understands that the presiding Judge, Justice O.A. Adeniyi made the order after hearing the motion filed by Emefiele.
The applicant named the Federal Republic of Nigeria, the Attorney-General of the Federation, (AGF) the Executive Chairman of the EFCC, and the EFCC itself as the respondents.
The court order includes the following key provisions: Immediate and Unconditional Release: The court ordered the 3rd and 4th Respondents (the Executive Chairman and the EFCC) to unconditionally release Emefiele from detention forthwith.
Alternatively, they are directed to produce him in court on the date fixed for the hearing of the substantive Motion on Notice, with the possibility of being admitted to bail by the Court.
On the hearing of the Substantive Motion, the court set the date for the hearing of the substantive motion on notice for Monday, November 6, 2023, at 1 p.m.
The post Breaking: Court Orders Ex-CBN Governor, Emefiele's Unconditional Release appeared first on Naija News.