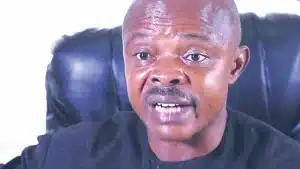 The Nigeria Labour Congress (NLC) and the Trade Union Congress of Nigeria (TUC) have issued a fresh strike notice to the Federal Government.
This is coming a few hours after the recent attacks, abduction, and assault on NLC President, Joe Ajaero, and other members of the unions, Naija News understands.
Speaking during a press briefing on Friday (today), the leaders of NLC and TUC presented the Federal Government with a six-point demand.
This includes the immediate removal of the Commissioner of Police, Imo State, the Area Commander, and other officials who are believed to be involved in the mistreatment and degradation of Comrade Ajaero and fellow workers.
The labour unions, thereby, issued November 8 as the new date for a nationwide strike should the government fail to meet its demands.
Naija News reports that some persons suspected to be agents of the state and security operatives had earlier descended on Ajaero alongside other Labour leaders, smashing their vehicles, inflicting injuries on them and dispossessing handsets, money, and ATM cards, among other valuables from the Labour leaders and others who had gathered at the NLC State secretariat to begin a scheduled protest over pending labour issues.
The NLC President, other national leaders of NLC and their Trade Union Congress of Nigeria, TUC, counterpart were at the state Secretariat in Owerri to protest, among other grievances, the backlog of unpaid salaries and allowances, pensions, gratuities, and non-compliance with the National Minimum Wage Act.
There has been outrage and condemnation of the attack, brutalisation, and battering of Ajaero. Naija News understands that on Tuesday next week, the leaders of NLC and TUC will convene to determine the suitable course of action in response to this incident.
The post [BREAKING] Ajaero: NLC, TUC Issues Fresh Strike Notice, Makes Six Demands From Tinubu appeared first on Naija News.