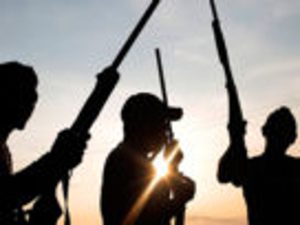 Eighteen traders from the Kantin Kwari textile market in Kano State have been abducted by bandits in Kogi state.
Confirming the incident to Daily Trust, Managing Director of Kantin Kwari Market Management Board, Alhaji Abba Bello, said the traders were kidnaped on Monday.
Bello said the traders were on a commercial journey to Abia, Abia state to buy goods when they were accosted by the unknown gunmen along Lokoja-Okene expressway in Kogi state and taken away.
It as gathered that the abductors have earlier demanded N50m as ransom before they later reduced it to N27m.
He said: "The kidnapped traders are 18, but we have so far confirmed the names of 12, but we suspect that their number could reach 18.
"They were all traveling to Aba in Abia state when the gunmen attacked them along Lokoja-Okene expressway in Kogi state.
"People are saying the victims are up to 20 or even more, but from what we can confirm so far, they are 18."