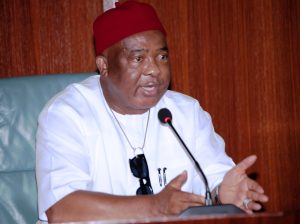 A group known as Dozie-Mezie Owerri Association has given the governor of Imo State, Hope Uzodinma 48 hours to apologise to the national president of the Nigeria Labour Congress (NLC), Joe Ajaero.
Recall that on Wednesday, Ajaero was reportedly picked up from the Imo council secretariat of the NLC in Owerri by heavily armed police officers.
The NLC claimed that Ajaero was beaten and blindfolded immediately after he was arrested by security operatives.
However, the Imo police command said Ajaero was not arrested but was taken into protective custody to avoid being lynched by a mob.
Speaking on the situation via a press conference in Abuja on Saturday, the president of the Owerri group, Henry Chidi Opara described the attack on Ajaero as an "ugly incident".
He argued that democracy requires tolerance and respect for the fundamental rights of the people.
Opara said, "We give Governor Uzodinma 48 hours to tender the apologies.
"The Commissioner of Police in Imo State has a responsibility to protect citizens, especially leaders of NLC who are on national assignment in line with the Constitution.
"There have been several allegations of the Commissioner lending his office to be misused for political vendetta. This is against the Constitution and the Police Act.
"We call on the inspector-general of police to request the commissioner of police in Imo state to identify those officers who committed the assault and battery against the Congress President, particularly Mr. Chinasa Nwaneri, SA to Governor Hope Uzodinma, who was identified as the leader of assailants, for prosecution according to the law.
"We want to give public notice that if after 48 hours of this press conference governor Uzodinma has not tendered the public apology, we will view it as a deliberate affront to Owerri people and clear demonstration of bad faith to Owerri people."
The post Ajaero: We Are Giving You 48 Hours To Tender Your Apology – Group To Uzodinma appeared first on Naija News.