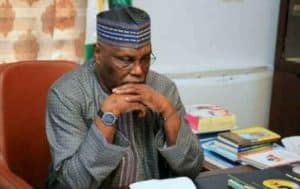 A former Special Adviser to the former Vice President, Atiku Abubakar, Umar Ado has submitted that signs on the wall already shows Governors of the Peoples Democratic Party (PDP) have dumped the party's 2023 presidential candidate.
According to him, the honeymoon between the Governors and Atiku has ended and both parties have gone their separate ways.
Ardo, who was the governorship candidate of the Social Democratic Party (SDP) in Adamawa State during the 2023 elections held that with the way things are, it's just a matter of time before an implosion happens.
He predicted that very soon, either Atiku would be expelled from the PDP or the former Vice President would leave on his own.
Speaking in a statement released on the political future of the former vice president, Ardo said: "Reading through Atiku's last Monday's press conference regarding the outcome of the Supreme Court's judgment and his position towards President Bola Tinubu's Presidency vis-a-vis the following day's communique of the PDP Governor's Forum after its meeting at the Oyo State's Governor's Lodge, it's obvious that the honeymoon between the party's 2023 presidential candidate and its governors is now over."
He stressed that the Governors and Atiku recently expressed divergent views on the Supreme Court verdict regarding the 2023 presidential election. While Atiku rejected the position of the Supreme Court, the Governors seemed to have embraced it and praised the leadership abilities of President Bola Tinubu.
Ardo noted that "In a separate address to the press following the communique, the chairman of the forum, Governor Bala Mohammed of Bauchi State, extolled the leadership qualities of President Tinubu and reiterated the PDP governors' readiness to cooperate, support and work with the federal government that he leads.
"Nothing else can be more explicit in illustrating the two going on their different and separate ways more than this."
He added that, "With these opposing positions, it's just a matter of time (and in a not distant future) for the inevitable implosion to happen, and either Atiku steps down his presidential ambition or leaves the PDP, or be expelled from the party! That's my reading of the political crystal ball."
The post 'It Is Obvious PDP Governors Have Dumped Atiku, He May Be Expelled From The Party' – Former Aide appeared first on Naija News.