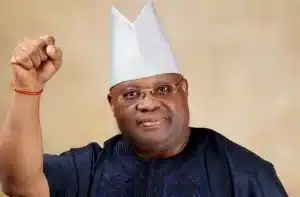 In a groundbreaking shift, the Osun State Governor, Ademola Adeleke, has spearheaded a visionary plan to construct 45 major roads and 5 flyover bridges without resorting to loans.
Governor Ademola Adeleke recognizes the pivotal role of public infrastructure in driving inclusive socio-economic growth and development, leading to a reduction in inequalities.
He firmly believes that a well-executed provision of public infrastructure, including roads, bridges, and more, can connect markets, boost production and trade, and generate a wide range of opportunities.
These infrastructure projects extend to areas such as water and sanitation, schools, and hospitals, ultimately improving the quality of life, enhancing skills, and bolstering health. They also play a vital role in addressing urgent healthcare needs, reducing pollution, and fortifying resilience against climate change and natural disasters.
Governor Adeleke is committed to addressing leadership deficiencies and establishing a conducive environment for sustainable development, food security, and human capital development in Osun State. He is determined to avoid poorly designed projects, cost overruns, and lengthy construction delays that could hinder the welfare of the people.
In line with his vision, the governor unveiled a substantial plan on October 27, 2023, to invest N100 billion in infrastructure in the state. This ambitious endeavour includes the construction of 45 major roads, 345 healthcare centers, 5 flyover bridges, a potable water supply, and an extensive street lighting network, among other projects.
Governor Adeleke attributes his administration's focus on infrastructural development to his deep-seated passion for the betterment of Osun. These projects include rehabilitating key roads, such as Otan Ayegbaju-Iresi Road and Ede-Egbedi-Erin Osun Road. Additionally, the plan targets water supply initiatives that span all 332 wards across the state.
The administration is also conducting geophysical surveys in various political wards and carrying out borehole drilling in selected areas within each ward. The installation and supply of water storage tanks complements this effort.
To address healthcare, the Imole Medical and Surgical Outreach program is scheduled to take place quarterly in six state hospitals under the supervision of the Osun State Ministry of Health.
Education is another significant focus, and the governor is determined to leave a lasting legacy for the younger generation. This commitment includes the reconstruction of several schools in different zones, such as Ede Muslim Grammar School (Ede Zone), Ifeoluwa C&S Grammar School, Ilesha (Ilesha Zone), Oranmiyan Memorial Grammar School, Ile-Ife (Ife Zone), NUD Grammar School, Oke Bailey, Osogbo (Osogbo Zone), Baptist Grammar School, Bowen Road, Iwo (Iwo Zone), and College High School, Ila Ikirun (Zone 7).
Governor Adeleke is also set to dualize several roads, including Old Garage Oke Fia-LAMECO Roundabout, Osogbo, Skoda Junction-Baptist High School Ede, Baptist High School-Oke Gaza, Ede, Oke Gada-Ido Osun-Ofatedo Road, and Ilesha/Akure-Brewery-Palace-Ilesha. Additionally, there are plans for the rehabilitation of Otan Ayegbaju-Iresi Road and Ede Egbedi-Erin Osun Road.
Adeleke's administration is undertaking the construction of 1.5 kilometers of roads across thirty local government areas and one area office. It also includes significant infrastructure projects like the Oke Fia Roundabout in Osogbo, a flyover, an underground tunnel at the stadium roundabout in Osogbo, a flyover at May Fair Roundabout in Ile-Ife, and a flyover at Owode Market in Ede. These projects extend to cross the Osun River, Ede, and Erinle Rivers in Ede.
Adeleke's words: "I have used the last 11 months to address the over 90 percent infrastructural deficit our administration inherited.
"But more still needs to be done, hence the ambitious plan to launch this infrastructure plan that covers roads, health, water, and schools, among others.
"By investing so much in infrastructure upgrades, we are laying the foundation for the effective public-private partnership".
In terms of finance, the governor said the infrastructure plan would be sponsored entirely by the state without procuring loans from any financial institution.
He added that his plan entailed complying with all procurement laws and due process while also ensuring that the local content part of the implementation was adequately satisfied.
Adeleke said: "Very importantly, our administration is ensuring localization in the implementation process. Local content in terms of sourcing materials and workforce is key to transferring skills and economically empowering our people".
The post Adeleke Unveils Ambitious Plan For 45 Major Roads And 5 Flyover Bridges Without Loan appeared first on Naija News.