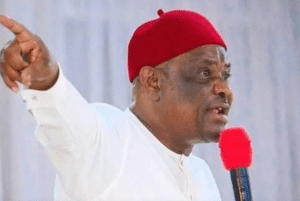 The Minister of the Federal Capital Territory (FCT), Nyesom Wike, on Thursday, received the Chief Judge of the Federal High Court, Justice John Tsoho, in his office in Abuja.
In his remarks, Justice Tsoho requested the minister to consider the judiciary in the allocation of lands in the nation's capital, saying that the third arm of government has been ignored for too long.
Justice Tsoho commended Wike for his selfless service and appealed to the FCT Minister to allocate land to serving Federal High Court judges as a form of recognition for their services nationwide,
The judge, therefore, stated that three arms of government must work together even though independently.
Reacting, Wike affirmed his eternal respect for the judiciary and the legislature and said he believes in the equality and independence of the three arms of government.
He said that President Bola Tinubu had already mandated him to provide lands to key officials in the three arms, saying he is developing a template that would see the allocation done in phases.
He said: "Like you rightly said, I believe that the three arms of government must work together even though independently, and I believe that no arm of government should be treated lesser than the other.
"Without the judiciary, our democracy cannot survive. Nigerians are talking about the judiciary today because of the role you play, and so whatever is required to strengthen the judiciary is not over-demanding.
Before now, the president had given me the go-ahead to allocate lands to the legislature, the executive and the judiciary. What remains now is how it should be done because the number is too much. What we have decided to do is to do this in phases. All cannot be done at the same time.
"Some allocations were done in the past, but unfortunately, some of the places are inaccessible. I think it is baseless to allocate land where people have no access, that is, infrastructure. It does not make any sense. So, we will allocate lands to you in places that are accessible."
The post Wike Hosts Justice Tsoho In Abuja Amidst Rivers Crisis appeared first on Naija News.