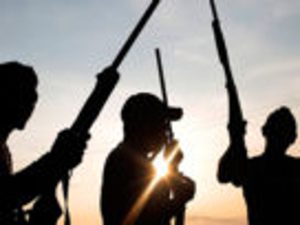 No fewer than fourteen persons have been reportedly kidnapped by yet to be identified gunmen in Kogi State.
Reports reaching Naija News at this time confirmed that the victims include the wife of late Barrister Mathew Kola Ojo, the former Zonal Chairman of Kogi West of Peoples Democratic Party, PDP.
It was gathered that suspected bandits kidnapped the individuals on the early hour of Monday at Iffe, in Ijumu Local Government Area of the state. Though five of the victims were said to have been released, wife of the late politician is said to remain with the abductors.
Confirming the incident, the President of Okun Development Association (ODA) Chief Femi Mokikan, revealed that the kidnapped have reached out to the family of Mrs Kola-Ojo but are yet to make their demands known.
He said: "The persons they (kidnappers) called was a family uncle to the woman, telling him they have Mrs. Kola-Ojo in their custody. But before they could state their ransom, the man's phone experienced flat battery. We are hoping that they will call back today,"
"I got the information about the Kidnapped saga about 10:30am and we started shouting to those that matter including the Senior Security Adviser to the Governor for help," he added.
He assured that ODA in collaboration with the local government authority to ensure the safe return of the victims.
Meanwhile, Taraba State police command has confirmed the death of two police officer, a sergeant and constable killed by some armed men in Karim Lamido Local Government Area of the state.
Naija News learnt that the deceased were on their way to their duty posts in Jen Community when the armed men attacked and killed them.