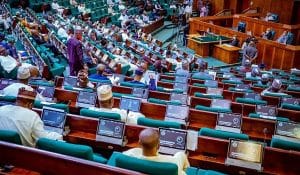 The spokesperson of the House of Representatives, Akin Rotimi has revealed why the National Assembly speedily assented to the two trillion supplementary budget.
Giving his explanation while speaking on Channels TV's politics today on Friday, Rotimi explained that the lawmakers had to hasten the review process to enable the government address the hardship currently suffered as a result of the recent removal of fuel subsidy.
Naija News had on Thursday reported that the National Assembly assented to the Supplementary budget amid widespread scrutiny of some of the provision of the budget.
However, defending the hasty passage, Rotimi said: "You will understand that with the removal of fuel subsidy, Nigerians are going through a whole lot, you known standard of living has really dropped and a lot of people are falling through the crack, there is need now more than ever for urgency on the part of the government to be able to intervene to improve the lives of Nigerians and in that light you can understand why the National Assembly had to respond that quickly to the proposal from the executive arm of government, for us to review the supplementary budget."
"For us when we look at the aspect of agriculture and food security, which were a major aspect of the supplementary budget, we seen no reason; there is hunger in the land people are suffering. if the federal government had said these are the provisions that are urgent, we see no reason not to expedite passing it," he added.
His comment comes just as analysts continue to express worries at the speed in which the lawmakers passed the budget.
Before now the National Assembly had previously spent ample time in scrutinizing provisions of the budgets.
The post Why We Speedily Passed Supplementary Budget – Reps Spokesman Reveals appeared first on Naija News.