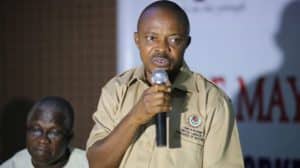 The President of the Nigeria Labour Congress (NLC), Joe Ajaero, has revealed he was in Imo State, which led to his attack.
Naija News understands that Ajaero was arrested in Imo State and their after was seen to have been brutalized.
Ajaero had earlier accused the Imo State Governor, Hope Uzodinma of being responsible for his attack in the state.
An allegation which had since been denied by the Imo State government.
Speaking in an interview with Vanguard, Ajaero said he was in Owerri, Imo State capital in furtherance of his trade union activities.
He further stated that the national body moves around states when a problem is beyond the council level or the state council level.
Ajaero said, "I went to Owerri in furtherance of my trade union activities. That's how I move, from state to state. That's how every trade union moves to where there are challenges. I am not the first President of the NLC, and I will not be the last. Where there are problems, either at the industrial council level or the state council level…we have 36 state councils and Abuja. Where the problem seems bigger than them, the national body wades in. We were in Kaduna on an issue like this. We were in Imo during the time of Governor Rochas Okorocha. A similar situation arose in the case of Governor Nyesom Wike in Rivers. I went to Imo because workers in the state were declared ghost workers.
"The first set of victims told us that Governor Uzodimma said the wage bill of the state was N1.2 billion and that he was only prepared to pay N700 million. Between that time and now, it has been back and forth. But the thing assumed a dangerous dimension when the governor claimed that he had paid everybody. Had he paid something and promised to the rest when the economy improved, there would have been a way out. The second reason we went there was the issue of violence. During Rochas' time, he appointed someone as Chairman of the NLC, someone who was not within the hierarchy of the union.
"He moved into that place, took it over for over nine months. The legitimate Chairman left the state and we didn't have a Chairman. When we wanted to elect officers in Imo State this year, Uzodimma's Commissioner for Information, Declan Emelumba, called me. They said they did not want 'candidate A'. I said, "OK, let me give you free advice. If you want candidate B, support him. If you like, give him money. NLC as a body cannot disqualify any candidate if he has met the criteria for election".
"On the day of the election, thugs and the police led by a DPO came to disrupt the election. When the election became inconclusive, we appointed a caretaker committee in Imo, Abia and Osun where a similar situation occurred. Some people who called themselves Elders in Imo asked us to give them two weeks; so that they will talk to the governor and make peace. Even in industrial relations, we can have informal conciliators. It is allowed all over the world. Till today, those Elders have not gotten back to us. During May Day this year, Governor Uzodimma brought some people as "Labour leaders".
"He sent letters to leaders of town unions and market unions so they would stand as workers' unions at the Heroes Square.
"Our members and genuine workers went to do their own at our secretariat. The law enforcement agencies and thugs went there and beat our people, and some of them were hospitalized. They vandalized and destroyed everything. The governor of Ogun State called me on WhatsApp and said "Speak to your brother". I said "Who is my brother?" Uzodimma asked, "Why are you fighting me? I said "I am not fighting you. I have not met you in my entire life. Pay workers". We started negotiations. As we were negotiating, Uzodimma said he would like to see every paragraph.
"And I said "Give him". He was cancelling them. When he was done, I said "Is that what you want?" We agreed to sign. Still he did not honour what he signed. People were calling me every day. People were dying. A husband and wife died because both of them were categorized as "ghost workers".
"He later claimed that he did not implement the agreement because he had been very busy. It was the DSS that told us that Governor Uzodimma said he was not owing anybody. I said no, that even the headmistress in the primary school I attended had not been paid. Early this year, this lady had been invited for a promotion interview which means she is in the system, contrary to the claim that she is a ghost worker. She is retiring this month, and she has not been paid for over three years. If she retires she will equally become a ghost pensioner.
"So when we arrived for the mass action, we talked to the workers. There were thousands of them. I told them to come back the following day for us to march together and submit a protest letter. The following day when these workers were trooping out they were being beaten up. Around nine a.m., I decided to go and talk to the press. I got there with about 20 security personnel. The governor also sent security men and his people and they all descended there.
"They withdrew my security personnel and ordered my arrest. The Police Area Commander arrested me and handed me over to thugs who then had a field day. They blindfolded me and were beating me throughout. They said I should say my last prayer and tell them why I was challenging Hope Uzodimma; that they were taking me to Njaba River. Later they took me to the office of the Commissioner of Police where the blindfold was removed. They also arrested and handcuffed two TVC cameramen.
"They ordered me into another bus. The bus took me to Tiger Base, which is reputed as a very dangerous area. Later they took me back to the office of the CP. The CP apologized and pretended to be harassing the officers who were manhandling me. I was taken to the police clinic where I established contact with my people, and I was taken to the Federal Medical Centre. All the security agencies were acting out a script."
The post 'Why I Was In Imo State' – NLC President, Ajaero appeared first on Naija News.