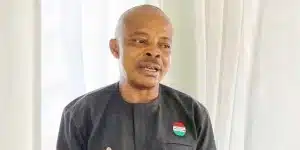 The President of the Nigeria Labour Congress (NLC), Joe Ajaero has pointed out that although Bola Tinubu is a dialogue-oriented person, alarming signs are coming from the judiciary.
Naija News reports that Ajaero, while speaking in an interview with Vanguard, said President Bola Tinubu's administration, despite his leadership style, is plagued by confusion regarding Labour matters and the misuse of courts.
Ajaero contended that although President Bola Tinubu values dialogue and negotiation, his government is experiencing confusion regarding managing labour affairs.
He also said that the Nigerian government's use of courts and the police's duty to protect protesters are concerning signals.
Ajaero said, "President Bola Tinubu is a leader who believes in dialogue and negotiations and is capable of give-and-take. But the Bola Tinubu government is another story. There is a lot of confusion in the administration on who handles Labour matters.
"Over the years, right from the regime of Obasanjo, Labour affairs rested on the shoulders of the Secretary to the Government of the Federation and the Labour Minister. When Yar' Adua came, it was Babagana Kingibe, the SGF. When Jonathan was President, it was Anyim Pius Anyim. And during Buhari's presidency, it was Boss Mustapha. I don't know the system of engagement that the Tinubu government is evolving.
"The Minister of Labour in the Tinubu government is not there. Apart from an introductory meeting in his office, he does not call the shots. The Chief of Staff to the President, Femi Gbajabiamila, calls the shots. Meetings take place in his office. He is a personal staff of Bola Ahmed Tinubu. He was not among the people the National Assembly cleared. Therefore, whatever he signs off on is strictly for his principal, not for the Federal Government of Nigeria.
"The second worrying signal is the use of courts.
"Only in this administration that any time we serve notice of strike or protest, a competent court warns us not to proceed. An Appeal Court ruling has affirmed that protests are allowed worldwide. The duty of the police is to protect protesters.
"The court gives order to precede negotiations so that the negotiators will be under duress. These two or three areas are worrying signals. And they have destroyed the courts. The Minister of Labour, Simon Lalong, is a lawyer. He should know that the right to strike is an inalienable one. The Nigerian government must learn to allow the sanctity of agreements to prevail. These are some of the challenges we are having in our democratic dispensation."
The post Tinubu Believes In Dialogue, But There Are Worrying Signals From Courts — Ajaero appeared first on Naija News.