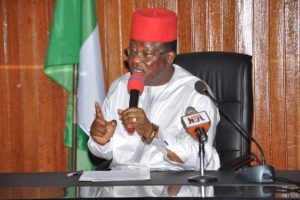 The Ebonyi State Governor, David Umahi, has disclosed the reason for suspending all his political appointees from Effium and Ezza Effium communities in the state.
Naija News reports that many lives were lost and properties worth millions of naira destroyed on Saturday in a clash between two factions of the National Union of Road Transport Workers (NURTW) in one of the communities and spilled into another.
This led to the arrest of the Chairman of Ohaukwu Local Government Area, Clement Odah, the lawmaker representing Ohaukwu North state Constituency, Chinedu Awo, a former lawmaker representing Ohaukwu North state Constituency and Umahi's Special Assistant on Youth Development, Frank Onwe.
Others arrested by the state Police Command are the coordinator of Effium Development Centre, Sunday Agbo, and his Effium South DC Counterpart, Eucharia Ogwale.
A former Chief Press Secretary to the Governor and Special Assistant on Market Development, Emmanuel Uzor, as well as his counterpart in Charge of Parks Development, Emmanuel Igwe were also arrested.
Speaking at the State Security Council meeting held in Effium community on Monday, Umahi said he suspended his appointees for contributing to the loss of lives and properties in the area.
Governor Umahi said his aides arrested by the police would remain in detention until peace returned in the area.
He said he has no power to suspend the lawmakers arrested, but the House of Assembly can discipline its members and decide the fate of the elected political officers.
The governor further vowed that any of them found to have hand in the crisis would be tried for murder and arson.
"All political appointments in these five wards are hereby suspended. I have no power to suspend elected people, but the House of Assembly does have and I'm going to report to them and they are going to take decision on that," Umahi said.
"The political appointees will remain in the detention until absolute peace returns and anybody connected will be charged with murder; so, you will not see them quickly.
"The women will be the one to report to me. The women will come in their numbers, equal number from Effium and Ezza-Effium and report and say, there is peace.
"But any political appointee or elected that got involved, I'm screening their phones. I have asked network providers to give me their conversions and any of them that is involved will go to prison and will be charged with murder and arson.
"For anybody to be released from detention under whatever condition, I have to authorise it."