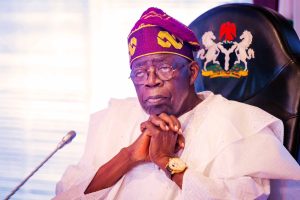 The Northern Youth Leaders Forum (NYLF) has urged President Bola Ahmed Tinubu to ensure equitable distribution of appointments within his government, avoiding the path taken by his predecessor, Muhammadu Buhari.

The group recognized that during his administration, Buhari established an imbalanced appointment ratio of 80:20 between the North and the South.
Consequently, it implored Tinubu to avoid replicating this pattern and instead work towards narrowing the growing divide, as it is imperative for the nation to rectify this situation.
Speaking in Abeokuta, Ogun State capital, during the weekend, the National President of NYLF, Elliot Afiyo, said the northerners have no right to complain about President Tinubu's 'lopsided' appointments.
Naija News understands that some leaders from the region, including a renowned Islamic scholar, Sheikh Ahmad Gumi, had accused Tinubu of skewed appointments in favour of the South West, the region he (Tinubu) hails from.
During one of his sermons recently, Gumi slammed the incumbent President for appointing Southern Christians into key positions, saying Tinubu would not get a second term in office.
The cleric also accused the President of using the North to get to the Presidency only to pursue an agenda aimed at decimating the political influence of the region.
In his address, however, Afiyo observed that since independence, "when you look at the appointment by Tafawa Balewa you will agree with me that it was 40/60 north-south and subsequent appointment by General Yakubu Gowon was trying to narrow the gap, and even in the democratic setting in 1999 under the leadership of President (Olusegun) Obasanjo. That is why I always say he is my father because he has nationalistic thinking.
"But Buhari came in and created the gap to be 20/80. And even the northerners that they were saying that Buhari appointed were not northerners per se. There were a few cliques, the North itself didn't benefit from it, but we are now seeing the appointments by President Tinubu are tilting towards the South West. He narrowed the gap that Buhari created, but the gap he is creating now is also widening.
"I would say northerners don't have the right to complain that the appointments or placements are lopsided. We don't have the right to complain.
"But as an advanced citizen, I ask: can we continue like this? If we get an Igbo President, he will appoint Igbos. Where are we going as a nation? So, there is a need for us to balance it."
He also frowned at what he called negative propaganda against the administration of Tinubu by some religious leaders in the north, calling on security agencies to call them to intervene.
Afiayo called on Tinubu "to urgently curtail the ugly trend and situation before the minds of the people are polluted, especially the northern youth in the rural areas who constitute 70% of the Northern population."
The post We Can't Continue In Error – Northern Forum Speaks On Tinubu's 'Lopsided' Appointments appeared first on Naija News.