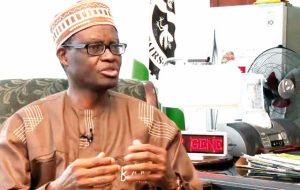 Former Director-General of the Nigerian Institute of International Affairs, Prof Bola Akinterinwa, has said the US and UK authorities will reject Nigeria's ex-service chiefs as non-career ambassadors.
Akinterinwa accused President Muhammadu Buhari of softly killing the country with his leadership approach.
Naija News reports that Buhari on Thursday, February 4 recommended the appointment of all immediate past service chiefs as non-career ambassadors.
President Buhari forwarded to the senate the following names; Abayomi G. Olonisakin (rtd), Lt Gen Tukur Y. Buratai (rtd), Vice Admiral Ibok-Ete Ibas (rtd), Air Marshal Sadique Abubakar (rtd), and Air Vice Marshal Mohammed S. Usman (rtd), urging the lawmakers to give quick attention to the recommendation.
Reacting to the development which has been condemned by some Nigerians, Akinterinwa said the president has the right to nominate all the service chiefs who were changed last week as non-career ambassadors.
He, however, said he does not believe that countries like the United States and the United Kingdom after accusing the former service chiefs of crimes against humanity would accept them as diplomats.
Naija News understands that Akinterinwa stated this during an online interview with the PUNCH on Thursday.
Akinterinwa said there was no how the service chiefs who were believed not to have performed at home would perform outside the country.
His statement reads: "It is only in Nigeria where a carpenter will want to perform the work of a pilot and where a pilot will want to go into surgical operation to perform cardiothoracic operation.
"When you bring somebody who is perfectly trained to kill to come and engage in diplomatic negotiations at a critical time that globalisation is now a major issue, I think that Mr President is making haste slowly and in this case, he is killing diplomatic initiatives well in advance, this is killing Nigeria softly."
He added that "the main problem any of the (former) service chiefs may have is that the international community have been speculating that they have violated human right, that under their watch some people have been killed recklessly without due regard to both international law and international humanitarian law."
"It depends on the country they will be posted to. If you send a service chief as an ambassador to the United States for instance, what will you expect? US is one of the countries that have accused the service chiefs of having violated human rights. Do you think they will be able to survive in that case in terms of negotiating skill? Not likely. If you send to Britain, the same thing.
"If you send to probably Cote D'Ivoire, Togo, Venezuela, all those places where strategic interest do not constitute the issue, in this case, yes, they may do well but you need someone who is very conversant with a very dishonest manner of operating international politics. International politics is very dishonest, everybody is struggling to undermine the other and you need a sophisticated career ambassador," the diplomat added.
Continuing, Akinterinwa said, "A country can accept and may not accept (an ambassadorial appointee). The obstacle here even though there is a rule of reciprocity if we name one and you refuse to accept, we too have the right to reject your own.
"But it is generally not done. When you present a candidate to a country, rather than writing you a bad letter to say they reject, they may keep quiet. So long silence, no reply simply means rejection. That is the context under which we call them persona non grata – that is an unwanted person."
Akinterinwa added that the country needs diplomatic careerists to engage in diplomatic negotiations, adding that political or non-career ambassadors have bastardised Nigeria's diplomacy and foreign policy objectives.
Meanwhile, Dr Junaid Mohammed, a Northern political leader and second republic lawmaker, has described President Muhammadu Buhari as a leader who only demands respect from people but is never loyal to anybody.
Conversing with newsmen on earlier, Mohammed said either of former Vice President, Atiku Abubakar of the Peoples Democratic Party or former governor of Lagos and All Progressives Congress (APC) Chieftain, Bola Ahmed Tinubu would do better than the incumbent president in leading this country.