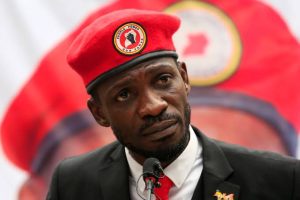 Uganda opposition leader, Bobi Wine, on Sunday, noted that the military have taken over his house in the last four days.
He further stated that he has been place on house arrest alongside his wife.
Wine in a post on Twitter on Friday said he has run out of food supply, adding that his wife has been assaulted by the military as she went outside to pick vegetables at the garden.
"It's now four days since the military surrounded our home and placed my wife and I under house arrest. We have run out of food supplies and when my wife tried to pick food from the garden yesterday, she was blocked and assaulted by the soldiers staged in our compound. (ADMIN)."
"Everyone including media and my party officials are restricted from accessing me. @ZaakeFrancis was arrested outside my gate as he made his way to my house, he was badly beaten by soldiers. He is now in Rubaga hospital. (ADMIN)."
The opposition leader on January 14 disclosed that his phone and his wife's phone were blocked and could not receive or make any calls.
"Like my wife's, my phone has been blocked and I am unable to recieve or make regular calls. I know this is to stop me from communicating to our agents and coordinators. I encourage you comrades to be vigilant as I try to devise ways of reaching out to you."
Recall that Ugandan security officials on Saturday stated they are protecting Wine after Thursday election.