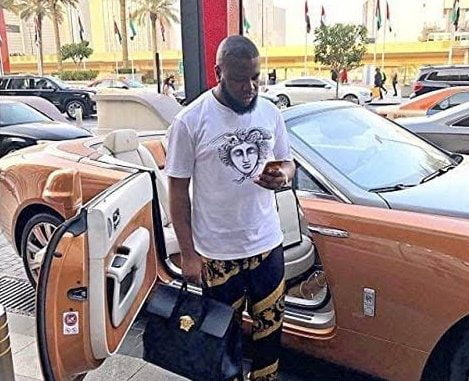 The lawyers representing alleged internet fraudster, Ramon Abbas, popularly known as "Ray Hushpuppi" have applied to withdraw from his case.
Gal Pissetzky and Vicki Podberesky said Mr Abbass stopped communicating with them and has now retained new lawyers to defend him in the case.
The lawyers announced their decision after months of negotiations with the U.S. government, court documents obtained by PremiumTimes showed.
Naija News recalls that Hushpuppi was arrested alongside Olalekan Jacob Ponle also known as Woodberry in the United Arab Emirate on June 10 for multiple fraud charges after a raid by operatives of the Dubai crime unit.
The Dubai Police authorities had released a video of how Hushpuppi and Woodberry were arrested for fraud. The Dubai based Nigerian big boys were arrested for an alleged $35 million by Interpol and the Federal Bureau of Investigation (FBI).
The duo were then extradited to Chicago, the United States on July 2, 2020.
Two weeks after their arrest, Dubai Police confirmed the arrest of the Dubai based Nigerian internet fraudster. The Dubai Media Office said two Nigerians and 10 others were arrested in an operation tagged "Fox Hunt 2". The Dubai Police said the raid resulted in the seizure of incriminating documents pertaining to a well-planned international fraud worth Dh1.6 billion (N168,823,414,720.00).
Hushpuppi and his gang of fraudsters were accused of leading an "international" online fraud network that was committing crimes outside the UAE, including money-laundering, cyber fraud, hacking, criminal impersonating, scamming individuals, banking fraud and identity theft.
However, because the U.S Court in Illinois, Chicago does not have jurisdiction over the case, he was transferred to Los Angeles, a city in California, where his trial will begin in May.
Hushpuppi had initially hired Pissetzky, a top Chicago lawyer, to defend him. But due to the transfer of Mr. Abbass to Los Angeles and his inability to practises outside Chicago, the lawyer was retained as a record counsel.
As a result, Mr Abbass hired Ms. Podberesky, a California-based criminal defense lawyer, as his local counsel.
According to documents obtained by PremiumTimes, Mr. Pissetzky and Ms. Podberesky recently filed a motion at the United States District Court in California to withdraw from representing Mr Abass.
In the application dated January 21, Mr Pissetzky, who claimed to have been negotiating with the government over the case, said Mr Abass suddenly stopped communicating with him.
He said the lack of communication has created a breakdown in the attorney-client relationship to the point where he believed that Mr Abbas deliberately chose to stop talking to them.
However, on January 21, Mr Pissetzky said he received a telephone call from Mr Abbas, informing him of the decision to retain a new counsel.
The lawyers' application for withdrawal will be heard by the court on February 22.