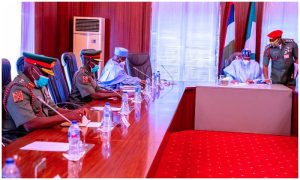 The Conference of Nigeria Civil Society for Peace and Security (CNCSPS) has condemned a statement by the media aide to President Muhammadu Buhari, Garba Shehu, defending the exclusion of Igbos from the recently appointed service chiefs.
The group in a statement signed by its National Coordinator, Dr. Aminu Shettima and National Secretary, Barrister Olufemi Amuda, described the statement as not only insensitive but also unexpected of him.
The group wondered if competence only resides among the geo-political regions that President Buhari had consistently considered for appointments in his administration.
According to the association, Shehu was wrong to dismissively say that Buhari can't be made to make the service chiefs appointments on ethnic basis.
"We find this statement coming from Mallam Shehu Garba at this time when Nigerians are still adding their voices to the exclusion of the South East from the recent appointment of the service chiefs by President Muhammadu Buhari as insensitive and irresponsible," the group said.
CNCSPS added that though Garba Shehu was correct in saying the appointment of service chiefs is not and should not be done on ethnic basis but it begs to ask if Igbo people of South East don't have competent officers that can be appointed in the administration of President Buhari as service chief?
They said, "Does competent people revolve within only one or two geopolitical zones since the assumption of President Muhammadu Buhari's administration? Obviously, no."
Recall that speaking in an interview with Channels TV on Monday, Shehu the appointment of security chiefs is not done based on ethnicity but on their ability to secure lives and property in Nigeria.
He was reacting to calls by different groups in the country for the next Inspector General of Police (IGP) to come from the south-eastern part of the country.
He said, "The language that is being used is that there should be an Igbo service chief and this is a country with more than 250 ethnic groups. If you are going to appoint a service chief from every ethnic group in this country, you are going to have more than 250 Inspector General of Police, 250 Chief of Army Staff, 250 Chief of Naval Staff. Things are not going to work like that.
"If we said that we are going to use ethnicity or religion as the basis, then, we have lost it. This is about law and order and not about ethnic identity.
"Look at what happened with the service chiefs appointed now – two from the South, two from the North. If you are talking about religion, two Muslims, two Christians."