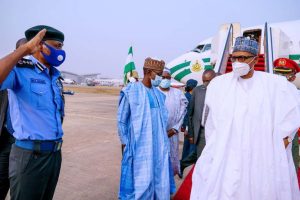 Inspector-General of Police, Mohammed Adamu, on Tuesday evening alongside other top government officials welcomed President Muhammadu Buhari back to Abuja on Tuesday.
There were speculations that Adamu, has reportedly handed over to the most senior Deputy Inspector General of Police, Operations, DIG Sanusi Lemu.
It was gathered that Adamu have asked Lemu to oversee the administration of the Nigeria Police Force pending the appointment of a new IG by the President having attained the statutory retirement age on Monday.
A source which spoke with Punch on the condition of anonymity noted that the report making rounds is not true.
The source further stated that the IGP on Monday reported for work at the Loius Edet House headquarters of the Nigeria Police Force in Abuja.
Adamu after attending to his official duties, joined other top government officials at the Presidential Wing of the Nnamdi Azikwe International Airport, Abuja to welcome the President.
The police source said, "There is no truth in the reports that IGP Adamu has handed over to anybody."
"He worked throughout today (Tuesday) in his office and proceeded to the airport to receive Mr President in the evening."
"He accompanied the President to the Residential Villa, and since it was evening already, he closed for the there from there. When then did he hand over."
"If he had handed over, it just makes sense that the person he handed over to would have been the one to receive the President at the airport."