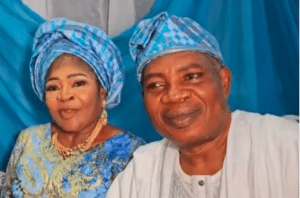 Veteran Nigerian singer, Salawa Abeni has unveiled the comptroller and commandant of the Customs Training College, Rasheed Adahunse, as her third husband on his birthday.
Naija News reports that Adahunse held his birthday and retirement party in Lagos over the weekend at the Eko Club.
The famous Nigerian Waka singer took to her Instagram page to share a video of herself performing at the event and wrote, "Congratulations on your retirement and birthday celebration, comptroller Rasheed Agbolade Adahunse."
During her speech at the event, the 62-year-old singer described Adahunse as her dearest husband of four years.
The Waka Queen said she had not chosen wrongly, adding that love conquers all.
"I don't have much words to utter, let me thank God. I will just say a bit about Alhaji Abdulrasheed Agbolade, my dearest husband.
"You are retired but not tired, I pray that as God joined us together as husband and wife four years ago, you will live long and have abundance.
"I saw you then as a complete 'English' man, you saw me as a musician. But love conquered all. I have not chosen wrongly. From today, call me Abeni Idunu Ishola," She added.
Recall that Salawa Abeni was first married to Lateef Adepoju, the owner of Leader Records, which she was signed on to. Their union lasted till 1986, when the Waka musician left the record label, and they had two children together.
After her union with Adepoju ended, Salawa got married to Kollington Ayinla, who was also a musician. She joined his record label and stayed with him till 1994. They also had kids together.
The post Popular Nigerian Singer, Salawa Abeni Unveils Third Husband appeared first on Naija News.