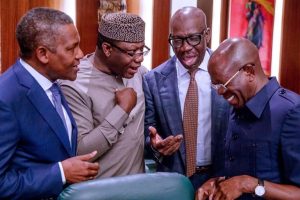 A former governor of Edo State, Comrade Adams Oshiomhole, has tackled some governors who claim they cannot pay the minimum wage to workers in their states.
He called on governors and those in political positions to use their offices to improve the lives of the people within their domain, urging them to be fair to all.
Oshiomhole, who said this on Saturday at the 10th anniversary of the Rotary Club of Abuja, Maitama, also argued that the rule of law was not necessarily about fairness or justice.
He said, "As President of the NLC, we were concerned with, is it the truth? That is why we never like to go to court because the court is not about the truth. It is about the law and the law is about the values of those in parliament, not necessarily the values of the larger society.
"So, it needs not coincide with what is fair and just. But that is the law and society will be administered or misadministered according to those laws. So, rule of law is not necessarily whether it is fair or just.
"Is it fair to all concerned? When I was at the trade unions, that question was at the heart of our struggle. Should people work so hard and end up being paid so little or as it current is in many states, people work so hard and at the end, they are not even paid for months?
"Every other price is going up, only the poor price is going down.
"Governors, past and present can afford current prices of cement, current prices for official vehicles, but they cannot afford the current prices of minimum wage," Oshiomhole said.
He continued, "When it comes to wages, it is about having the ability to pay, I should pay according to my resources. But when you, as governors, are buying vehicles, you pay according to the market value of the vehicles."
This article was originally published on Naija News