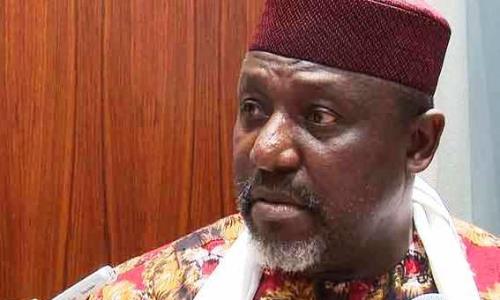 Former Imo State Governor, and current Imo West Senator, Rochas Okorocha has rubbished rumours that he is set to dump the ruling All Progressives Congress (APC) for another party.
The politician argued that he is one of the founding fathers of the party but it is rather unfortunate that some people who joined later have hijacked the party.
Despite this submission, Okorocha while addressing the State Working Committee (SWC) members, zonal, LGA and ward executives of his faction of the party in the state at the weekend, clarified that he remains a full member of the APC and has no intention of dumping the party.
In his words, "I have not left APC. I am still in APC. Nobody has stakes in APC more than me. The worst insults I had in Imo and in the South-East in 2015 was because of APC and President Muhammadu Buhari.
"APC was formed by President Buhari, Asiwaju Bola Tinubu, myself and few other people. But those on congratulation trip have taken over the party".
It will be recalled that speculations about Okorocha joining another party were fuelled after the lawmaker recently said he is supporting the creation of a new political movement ahead of the 2023 general elections.
In a chat with reporters, the Senator said he and other progressive-minded politicians are working to restore public confidence in governance and save the country from total collapse.
The lawmaker noted that Nigerians are not satisfied with the current state of Nigeria, saying that the country needs political re-engineering.
According to Okorocha, the movement for a new Nigeria has begun and all politicians must come together to make the country work.
He said the new political movement will not be like the All Progressives Congress (APC) which was hurriedly formed to take power the PDP without championing the course.