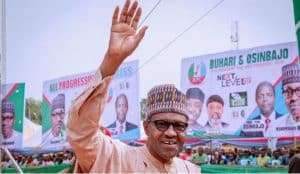 The Minister of Science and Technology, Ogbonnaya Onu has submitted that President Muhammadu Buhari has the best interest of Nigerians and the country at heart.
He however added that Nigerians need to trust his administration as he works on making changes that will make the country better for everyone.
The Minister noted that the Buhari administration has started fulfilling campaign promises made to Nigerians and more are on the way.
Onu made the submission on Tuesday while participating in the ongoing All Progressives Congress (APC) membership revalidation exercise at Uburu in Ohaozara local government area of Ebonyi state.
He said: "There is what I really will let Nigerians know, that the founders of APC decided that the time has come for a political party that can get back the values that were missing in our system," he said.
"There is the need for Nigerians to start trusting their government, because trust is very important, and you only trust your government when it is doing those things it has promised that it must do.
"And you can see that the administration of Buhari is working very hard to make sure that all the promises made are kept. We were just at the second Niger bridge; this is a project that has been on for a very long time.
"Other administrations made promises, but they failed to keep those promises. But the president made a promise that he is going to build the second Niger bridge, and the project is over 50 percent completed. It's like a promise made and promise kept.
"Buhari means well for Nigeria because he is keeping many of the promises he made, not minding that he came at a time when national revenue was on the decline."
Meanwhile, the presidency on Tuesday said that President Muhammadu Buhari cannot respond to every matter including the herdsmen crisis rocking parts of the nation.
Buhari's Special Adviser on Media, Femi Adesina, stated this while appearing on Channels Television's Politics Today programme.
Recall that Governor Abdullahi Ganduje of Kano State had called on the Senate to enact a law that would stop herdsmen from taking their cows from the north ot the south to prevent clashes with farmers.
Asked Buhari's reaction to Ganduje's suggestion, Adesina pointed out that it was an idea and the president cannot comment on every idea.
He said, "When you have knotty issues like this, many ideas will be proffered, many solutions will be canvassed. The President does not have to speak on each and every one of them.
"He does not have to, it was just an idea being proffered. It should be looked into and then if it is a consensus, it should be adopted. But it is not as one idea comes the President speaks on it, another idea comes, the President speaks on it, such must be a talkative President."