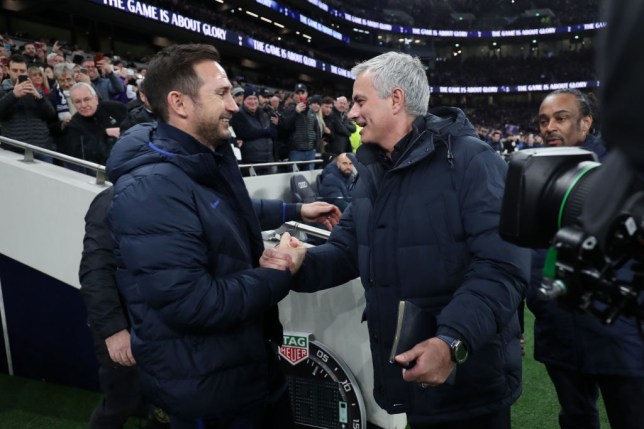 Tottenham manager Jose Mourinho says Frank Lampard's sacking at Chelsea demonstrates the brutality of modern football management.
Club legend Lampard was relieved of his duties just 18 months into the job on Monday, after a run of one win in five Premier League games left the Blues 11 points behind leaders Manchester United.
Lampard won three Premier League titles with Chelsea as a player under Mourinho, who expressed his sadness at the news before admitting it is a reality that managers are always dreading.
"I am always sad when a colleague loses his job," Mourinho said.
"Frank is not just a colleague, he is an important person in my career, so I feel sorry he did (get sacked).
"But it is the brutality of football, especially modern football, so when you become a manager you know that sooner or later it is going to happen to you."
Meanwhile, Lampard has spoken of his time as Chelsea coach as being a "huge privilege and an honour", but is disappointed he was not given the time to take the club "to the next level".
In a post via his Instagram handle on Monday, Lampard wished his former club well despite the decision to relieve him of his duties.
It has been a huge privilege and an honour to manage Chelsea, a club that has been a big part of my life for so long," Lampard said.
"Firstly, I would like to thank the fans for the incredible support that I have received over the last 18 months. I hope they know what that means to me.
"When I took on this role I understood the challenges that lay ahead in a difficult time for the football club.
"I am proud of the achievements that we made, and I am proud of the academy players that have made their step into the first team and performed so well. They are the future of the club.
"I am disappointed not to have had the time this season to take the club forward and bring it to the next level.
"I want to thank Mr Abramovich, the board, players, my coaching team and everyone at the club for their hard work and dedication, especially in these unprecedented and challenging times.
"I wish the team and the club every success for the future."