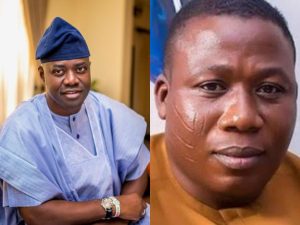 Yoruba activist, Sunday Adeyemo, popularly known as Sunday Igboho has revealed that he knew Seyi Makinde before he became Oyo State Governor in 2019.
The activist on Tuesday revealed that he met Governor Makinde through the former governor of Oyo State, Rasheed Ladoja.
It will be recalled that Igboho had last week, issued a quit notice to herdsmen in Ibarapa North Local Government area of the State.
After the quit notice, Governor Makinde had threatened that Igboho won't be allowed to cause disharmony in the state but the activist in a viral video dared the Governor to arrest him, boasting that he can't be arrested.
Speaking more on the relationship between him and the Governor, Igboho in an Instagram live chat on Tuesday with veteran journalist, Dele Momodu, said Makinde didn't keep promises made to him before the election.
In his words: "Governor Seyi Makinde and I have been together for a long time. He commissioned my house that was razed by hoodlums in 2013 and also provided a 500kva transformer for my street.
"I supported him and campaigned for him during the 2019 governorship election in Oyo, I met him through former governor of Oyo State, Rasheed Ladoja.
''Rasheed Ladoja encouraged me to support Makinde during the election 2019 and I showed my utmost support because I never rejected any advice from Ladoja but Makinde never kept to his words due to the insecurity in the state and the incessant killings. So I took it upon myself to restore security by issuing the quit notice to the herders in the state.''
It will be recalled Igboho, on Tuesday, disclosed that he lost properties worth N50 million in the fire disaster at his residence at Soka, Ibadan.
Igboho while speaking with newsmen after the fire incident described the perpetrators as cowards.
He further stated that the attack was on his old residence as the hoodlums do not have the courage to attack where he lives.
Meanwhile, President Muhammadu Buhari has appointed new service chiefs for the nation after he sacked the previous ones, Naija News authoritatively reports.
This was confirmed on Tuesday in a tweet from presidential media aide, Femi Adesina in which he also quoted the president as appreciating the outgone service chiefs for their performance.
The President appointed Maj Gen LEO Irabor as the Chief of Defence Staff (CDS), Maj Gen I Attahiru as Chief of Army Staff (COAS), Rear Admiral A Z Gambo as Chief of Naval Staff (CNS), and AVM I O Amao as Chief of Air Staff (CAS).
Adesina wrote: "PMB appoints new Service Chiefs. Maj Gen LEO Irabor, CDS, Maj Gen I Attahiru, Army, Rear Adm AZ Gambo, Navy, AVM IO Amao, Air Force. He congratulates outgoing Service Chiefs on efforts to bring enduring peace to the country."