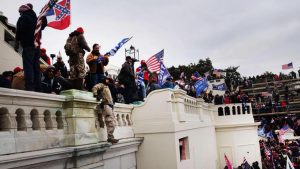 US Department of Justice investigators have so far found no evidence that the rioters who attacked the Capitol last week planned to capture and murder elected officials.
In an Arizona court hearing on Friday into the detention of one of the rioters, Jacob Chansley, a QAnon conspiratorial activist, federal prosecutors reconsidered their previous accusations that supporters of President Donald Trump were planning to "Capture and murder elected officials" during the January 6 attack in Washington.
In a previous testimony in court, prosecutors invoked the murder plan to demand the continued detention of Jacob Chansley, 33, who became famous around the world after being pictured shirtless in a horned shaman's outfit during the riot.
Arizona prosecutors withdrew their charges on Friday after the Justice Department said despite calls during the attack to capture some elected officials and kill Vice President Mike Pence, no evidence had not been found which shows that such a project was seriously considered.
"There is no direct evidence at this point of the existence of teams to capture and assassinate," (elected officials), Michael Sherwin, the Washington District Attorney General who oversees Washington, told reporters about the investigation into the attack on the Capitol."
In reaction to the January 6 attack, Washington has taken on the appearance of an entrenched camp in recent days with its concrete blocks and barbed wire.
A heavily armed man was arrested on Friday as he sought to pass one of the many checkpoints set up near the Capitol, where President-elect Joe Biden will be sworn in on January 20.