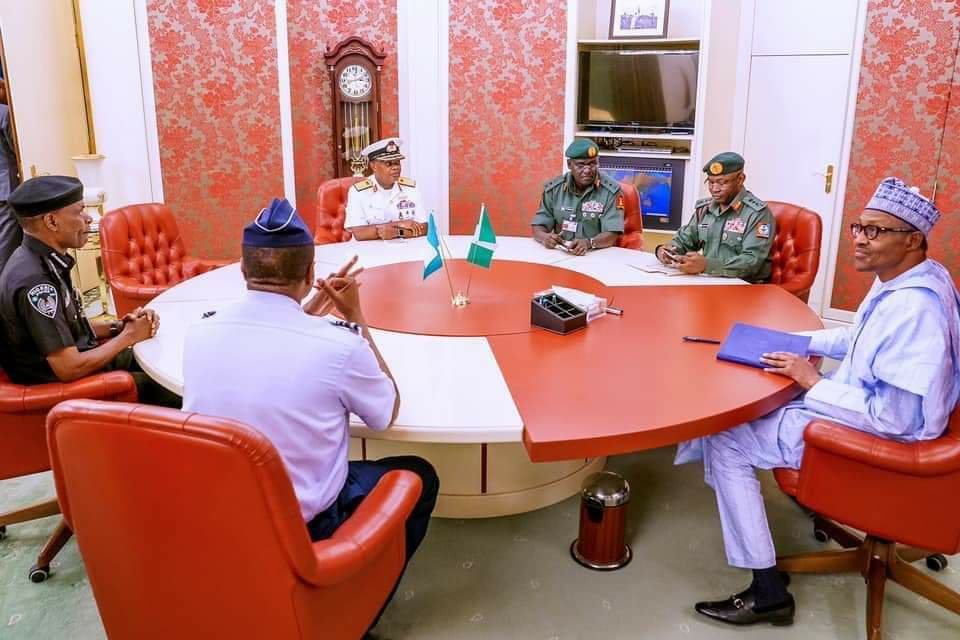 President Muhammadu Buhari on Friday, instructed service chiefs to work together in ensuring the war against insecurity in Nigeria is won totally.
The President instructed them to share ideas, intelligence information, and all that is needed to ensure insurgency is defeated and the sacrifice paid by security operatives who have lost their lives is not in vain.
Buhari in a series of tweets from his Twitter account, also reiterated the commitment of his administration to the welfare of the troops.
He promised that the government will continue to invest in making weapons and equipment available to sustain the significant improvements already recorded in the fight against insecurity.
"As we commemorate #ArmedForcesRemembranceDay, let me pay tribute to the bravery and sacrifice of all the men & women of our Armed Forces who have paid the supreme price for our unity, peace and security. We also salute our troops currently engaged in internal security operations."
"The welfare and wellbeing of our troops will continue to be a priority. We are investing heavily not only in weapons and equipment for their use, but also in provision of housing, medical care and other areas of welfare. And we will continue to make resources available."
"I am reiterating my directives to the Service Chiefs regarding greater synergy and cooperation, and also a more sustained focus on intelligence gathering and interpretation. I am confident that we will see significant improvement in our security situation this year."
"May the souls of all our departed heroes continue to rest in peace. We will continue to strive to ensure that their sacrifices on our behalf will never be in vain," the President noted.
Meanwhile, the Nigerian Military has boasted that no single territory in the North East remains in the control of Boko Haram terrorists.
This was disclosed on Friday by the Coordinator Defence Media Operations, Major-General John Enenche who noted that all territories previously occupied by the insurgents have now been reclaimed by the military.
Speaking on Channel Television's Politics Today, Enenche said the insurgents have been displaced and seriously weakened as a result of continuous onslaughts against them by the military.