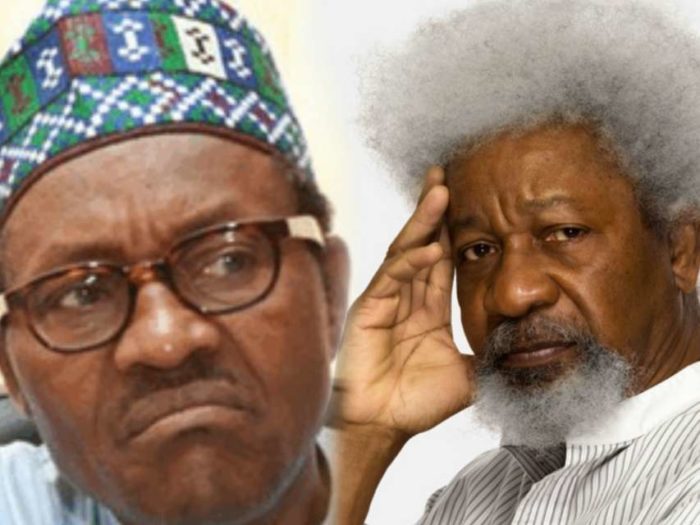 Nobel laureate, Professor Wole Soyinka on Thursday, declared that he doesn't believe President Muhammadu Buhari is in charge of the affairs of the country.
He made the submission in reaction to the growing spate of general insecurity in the country and with particular reference to the alleged criminal activities of some Fulani herdsmen.
Soyinka in his submission during an interview session with Arise TV, said as the Commander-in-Chief of the armed forces, Buhari can't be in charge and things would be as bad as they are in the country.
In his words, "I don't believe Buhari is in charge, because it's not possible for a Head of State, a Commander-in-Chief of the armed forces, to say he is presiding over a nation & things get to this level."
It will be recalled Naija News earlier reported that Soyinka recently stated that just like every other Nigerian, he is not pleased with current happenings in the country.
Soyinka in his interview with BBC Pidgin, told President Muhammadu Buhari that the activities of criminal herdsmen could lead Nigeria into another civil war.
To stop the crisis from escalating further, Soyinka said the President needs to address the nation in clear terms and tell the cattle rearers not to infringe the rights of other citizens while conducting their own private business.
He urged Buhari to give instructions to the security forces to protect citizens else the President would continue to be seen as supporting the activities of the criminal herdsmen.
Soyinka added that he, like every other Nigerian is tired of the situation and can't just sit down and watch but is ready to take action and put an end to the insecurity.
He noted that Buhari's continued silence is like endorsing the activities of the criminal herdsmen and if he doesn't speak out, it means the President is complicit in their activities.
"If we continue to wait for the resolution to be centrally handled, we are all going to become, if not already, slaves in our land", he said.
"We are here not just to live, but live in dignity. Right now our dignity is being rubbished", he added.
Meanwhile, the Nobel laureate on Thursday accused the police of lying when it denied the reported Fulani herdsmen attack on his house.
Soyinka in a statement where he narrated his side of the incident, said he was not personally attacked but the herdsmen and cows attacked his residence.
He also countered the police version which reported just a stray cow, noting that it wasn't even a case of two or three cows but a whole herd.
Soyinka who was making a public statement for the first time about the incident noted that his property was attacked by the Fulani herdsmen on Tuesday.
He also warned the police on the need to be straightforward when putting information out to the public, particularly, sensitive ones such as his own experience.