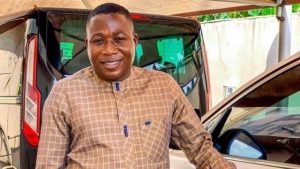 Yoruba activist and youth leader, Chief Sunday Adeyemo popularly known as Sunday Igboho has denied owning any personal Twitter account or Facebook page.
Igboho said this on Tuesday when asked by newsmen about the authenticity of a Twitter account that claims to be him and has been releasing information to members of the public on his activities.
In response, he denied owning any of the listed social media accounts, warning that those operating them are impersonating him and any member of the public who transacts business with them does so at his/her own risk.
"I don't have any twitter account and I don't write on Facebook. Whoever is behind the Twitter account is merely using my name for ulterior motives. I know nothing about that. If you have anything to do with Twitter just be very careful with those hiding under my name to spread falsehood. If someone is interacting with you on Facebook in my name, be careful not to fall victim," he declared.
Meanwhile, Naija News had also earlier reported that Igboho on Tuesday, denied having come across the Special Adviser on Political Matters to President Muhammadu Buhari, Babafemi Ojudu.
Ojudu in a post which has now been deleted on Facebook alleged that Igboho was contracted by the opposition party to disrupt the 2009 Rerun Governorship Election in Ekiti State.
The Presidential aide further stated that he and the National leader of the All Progressives Congress, Bola Tinubu, met with Igboho to halt the plan.
Igboho while speaking with newsmen at his residence on Tuesday shortly after one of his buildings in Soka area of Oyo State was set on fire, said he does not know Ojudu, described the words of the president's aide as all lies.
He said, "I have been hearing reports about a man called Femi Ojudu. I don't know this man. He said the late Chief (Lamidi) Adedibu contracted me in 2009 and we all know that Adedibu died in 2008. I think the man should undergo a mental test because the late Chief Adedibu did not train me for any job and I was not close to the late Adedibu."
"I have a relationship with my father, Senator Rasheed Ladoja, and I have never betrayed him in the years I was his follower."
"I don't know Femi Ojodu and I didn't have any business with him. All that he said are lies."