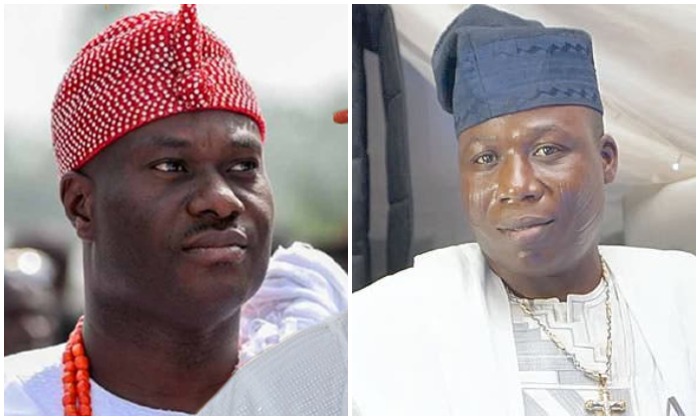 Yoruba activist, Chief Sunday Adeyemo, better known as Sunday Igboho has apologized to the Ooni of Ife, Oba Adeyeye Enitan Ogunwusi over his recent outburst against the first class traditional ruler.
Naija News recalls that Sunday Igboho had claimed the Ooni disappointed the Yoruba people when he visited President Muhammadu Buhari over the herdsmen crisis.
He had described the Ooni of Ife, Oyo State Governor, Seyi Makinde, and the national leader of the All Progressives Congress (APC), Asiwaju Bola Tinubu, as Fulani slaves.
"When Ooni visited Buhari, the president received him by standing up but he said something I don't like. That is why the Alaafin called me. He wants to tackle what Ooni said."
"I need buses to transport people. The three vans we use are bought by me. We lost three buses that were hired on our way to Oyo. Ooni should be able to tell Buhari about what Yoruba want. But he has collected dollars from Buhari. He called me but I don't want to see him. Only Alaafin is supporting us and he has written a letter to the president. Ooni disappointed me. Politicians are with him," Igboho had said.
However, Igboho has now turned around and apologized to the Ooni and all those he spoke against due to the herdsmen crisis affecting Yoruba land.
He acknowledged that he spoke in the heat of the moment but his intention was only to call on them to join the agitation to free Yorubas from the bondage of killer herdsmen.
Speaking in Yoruba language, Igboho said in the video that it is against the Yoruba culture to speak against elders, talkless of kings, and begged for forgiveness if any of his words came out as offensive.
He added that he has spoken directly with the Ooni to apologize and explain his position to him.
See video:
Yoruba activist, Sunday Igboho, apologises to Ooni of Ife for calling him an animal/Fulani slave pic.twitter.com/XU9LBlk0Fo

— Oyo Affairs (@Oyoaffairs) February 3, 2021
Meanwhile, pan-Yoruba socio-political organisation, Afenifere, on Wednesday, noted that nobody will lose sleep if Fulani herdsmen return to the north.
Recall that Fulani herdsmen were called on to return to the North by Northern Elders Forum if they don't feel safe in their host communities.
The spokesperson Afenifere, Yinka Odumakin, while speaking on Wednesday said, "Buhari has no issue protecting southerners who are being persecuted on their land."
"He should spread all his wings to protect the Fulani persecutors. Nobody will lose sleep if the killers decided to return to Futa Jalon."