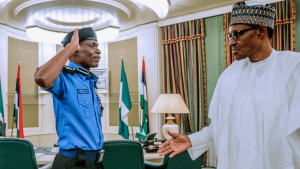 The Federal Government has revealed when the new salary structure for the Nigeria Police Force (NPF) will commence.
Naija News reports that this was revealed by the Acting Chairman of the National Salaries and Wages Commission (NSWC), Ekpo Nta.
According to NSWC Acting Chairman, a new police salary structure for policemen would soon come into force soon.
Nta spoke at a workshop to sensitize members of the public on community policing, organized in conjunction with Unite Consult Limited and C. O. Luke & Co., in Abuja, Nigeria's capital.
Nta, who was represented by David Nyikyaa, the Secretary to the commission, said documentation on the improved salary structure for the police had been completed and was awaiting submission to the President for approval.
He said they have been working round the clock to ensure the new salary structure was ready as soon as possible, following the President's order in the wake of the #EndSARS crisis late last year.
Recall that President Muhammadu Buhari had in a nationwide broadcast on Thursday, October 22, 2020, addressed police welfare and in the process revealed that a new Nigeria police salary structure was on the way.
President Buhari had said with "regard to the welfare of police personnel, the National Salaries, Income and Wages Commission has been directed to expedite action on the finalization of the new salary structure of members of the Nigeria Police Force."