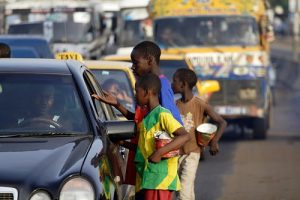 Kaduna State government has vowed that it will arrest any street beggar, popularly known as Almajiri found roaming about the Kaduna metropolis.
The state COVID-19 Task Force chairman, Major Garba Yahya Rimi (rtd) in a statement issued a few moments ago, said the government has ordered the group to send off all beggars found on the streets of the 23 Local Government Areas of the State.
Rimi noted that the decision was in line with the agreement reached in all 19th northern States and Abuja to evacuate all beggars off from the streets. He added that any Almajiri found on the street would be arrested and repatriated to his state of origin.
He explained further that the numbers of the arrested kids would keep on increasing because the operation will still be ongoing in the next three months across the 23 Local Government Areas of the State.
"So, it's not only the arrest of 140 Sheikh Tahir Bauchi Islamiah schools students in Kaduna town, this was parts of the guidelines given to us after our Inauguration in the state recently," Rimi noted.
He added that "Any destitute like beggars, there's a law banning them from going to the street and if intercepted will be treated based on the same directive of the governors."
Naija News understands that Northern State Governors had in a meeting held at the Kaduna Statehouse sometimes ago resolved to repatriate Almajiri children to their states of origin.
Rimi said the children can return back to their parent's houses when closed from the school in accordance with the law, recalling that there is a Kaduna law of 2016 banning street begging or hawking in the state.
He said: "So, most of what we're doing is based on those laws. But people said we are targeting sheikh Bauchi, that is not the truth.
"Because the first time we arrested about 22 Almajiris traveling from some states to another part of the country; at the same time, we moved to the other side and arrested about 140 which we conveyed to Hajj camp which is legally allowed by the state government.
"They are lslamiah students, and are now more than 160 to162 at Hajj camp, all together, because the number is increasing and there are two of them who could not tell us exactly where they came from," Rimi added.
In another news, the Islamic Movement in Nigeria, IMN, better known as Shi'ites, again demand the release of its leader, Sheikh Ibraheem Zakzaky and his wife, Zeenah Ibrahim.
Shi'ites expressed worries that Sheikh's wife is at heightened risk of severe illness and possible death considering her underlying medical conditions at this time the nation is battling another phase of COVID-19 pandemic, Naija News reports.