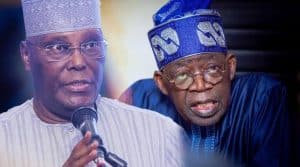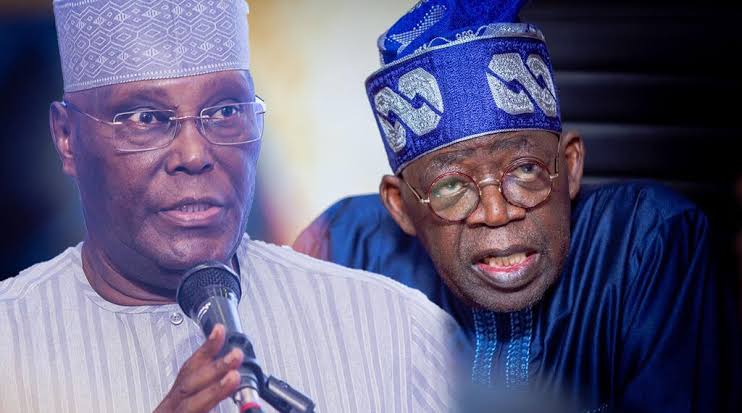 The Bola Ahmed Tinubu-led administration has reacted to the world press conference held by the presidential candidate of the Peoples Democratic Party (PDP) in the 2023 election, former Vice President Atiku Abubakar.
Naija News reports that Atiku had held a press conference at the PDP National Secretariat where he rejected the ruling of the Supreme Court that affirmed Tinubu's victory and also accused the President of forging his academic certificate.
Reacting in a statement on Monday evening, the Special Adviser to the President on Strategy and Information, Bayo Onanuga, called on Atiku to finally go away and end his presidential ambition.
Read full statement below:
Former Vice President and Peoples Democratic Party Presidential candidate in last election, Alhaji Atiku Abubakar, unraveled on Monday at a press conference in Abuja where he finally found his voice after more than 96 hours to respond to his trouncing at the Supreme Court in a landmark judgment on his grossly incompetent election petition appeal.
We were wrong to expect that Atiku at 77 would play the statesman and sportsman and accept, with equanimity, the verdict of the highest court and the people of Nigeria.
Instead, he unashamedly constituted himself into a demagogue and anarchist in the way and manner he sought to pull down and delegitimize all the institutions of State, all in a futile bid to achieve what he could not get via the ballot box.
At his press conference where he laboured, in vain, to once again manipulate public opinion and blame the judiciary for his self-inflicted defeat in the 25 February Presidential election, Alhaji Atiku launched a diatribe against the Independent National Electoral Commission (INEC) and judiciary, particularly our apex court, for not bending the law and the constitution to satisfy his whims and caprices.
Atiku tried very hard to perfect his act of misinformation by seeking to lay claim to faux morality and higher ideals when in actual fact his entire life is antithetical to any higher ideals.
For instance, Atiku claimed he worked along with others to end military rule in Nigeria when he was known to be in bed with the same junta who held democracy hostage and incarcerated his mentor, Major-General Shehu Musa Yar'Adua (rtd), till death. He distanced himself from him while in detention to keep alive his governorship ambition on the platform of one of those inglorious Abacha political parties.
Atiku's brand of politics is such that once an electoral process or election does not go his way or pave the way for his victory, democracy becomes dysfunctional and must therefore be imperiled. For him, democracy should either go his way or the highway.
The PDP candidate was uncharitable and pugnacious in his choice of words and his view about Nigeria. We can only imagine the level of frustration that could make a former Vice President of Nigeria to hold such pessimistic view of a country where he once occupied the second highest position. The PDP candidate said Nigeria is doomed just because he failed to achieve his personal ambition.
We want to tell Alhaji Atiku this: Nigeria is not doomed. It is only Atiku's inordinate ambition to be President that is doomed. Nigeria is moving forward and set to achieve its manifest destiny as one of the most respected and successful nations of the world under the leadership of President Bola Ahmed Tinubu.
Contrary to Atiku's gloomy submission on our democracy, we are excited to tell the world that our democracy is thriving and blossoming. It is the reason, for the first time, since 1999 the character of our National Assembly and its outlook reflect the diversity and plurality of the choices and preferences of voters as a rainbow coalition of different parties as opposed to the practice in the past where just two parties dominated the national parliament.
In today's Nigeria, votes count. No amount of deliberate distortions of facts about our recent election by Alhaji Atiku and his partner, Peter Obi can vitiate the continuous improvement of our electoral process which local and international observers have hailed. As declared by the Supreme Court, IReV was not designed as an online collation centre. It was simply a public viewing centre for results.
PDP and Atiku, including Peter Obi's faction of Labour Party cannot continue to insist on their own reality against commonsense, logic and the law.
Atiku and his army of hirelings knew why they lost the election. The PDP candidate lost because Nigerians preferred Bola Ahmed Tinubu and voted for him to be president. Tinubu, along with his APC, won because he offered a better vision for our country's future. The All Progressives Congress as a united and formidable party which ran a well-coordinated campaign with his rank and file intact.
Atiku lost because he went into a major election with a fragmented and tattered umbrella that could not hold together. There was no way Atiku and PDP could have won the election with the party platform under which he contested broken into four parts. If Atiku was not harboring a delusion of grandeur, we wonder how he could have envisaged any possible pathway to victory with Mr. Peter Obi's Labour Party, Dr. Rabiu Musa Kwankwaso's NNPP and PDP G-5 Governors who took away possible PDP votes, while the APC went into the election as a strong, viable and unified entity.
Alhaji Atiku Abubakar claims he loves Nigeria and embraces "integrity" so much. We found such claim to be sheer hypocrisy as Atiku remains one of the worst examples of kleptocracy in Africa. The US Congress lists Atiku's money laundering as one of the very rare cases of corruption at the highest level of governance in the world.
His avarice sent congressman William Jefferson to jail after the FBI busted a bribery scandal in which Atiku was involved from head to toe and for which he was marked down by the U.S. agency.
Now as we get to the proper business of governance after Atiku's unwarranted distraction, we have picked some clear lessons going forward. One is that our institutions must be strengthened on diligent and sturdy wings, enough to withstand and identify from afar rabble-rousers who masquerade as statesmen.
Second, our institutions must also ensure that corrupt, desperate, self-serving serial losers should not have a space in our democracy. Because if they don't win the battle, they might burn the nation.
We want to advise Atiku that after over three decades of elusive bid for the Presidency of Nigeria, he must now end his unprofitable bid and go away from any venture that will further pollute the political atmosphere and national harmony.
Bayo Onanuga
Special Adviser to the President on Information & Strategy
October 30, 2023
The post BREAKING: It Is Time For You To Go Away, Drop Ambition – Presidency To Atiku Abubakar [Full Text] appeared first on Naija News.