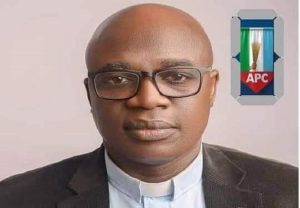 Tersoo Kula, the Chief Press Secretary to the Governor of Benue State, Hyacinth Alia has debunked a report claiming that his principal was attacked by some angry youths, who allegedly pelted his convoy with stones.
Kula insisted that the report was misleading and aimed at casting Alia in a bad light.
He stated that no one hauled stones at Alia or his convoy anywhere in Benue State.
The aide explained that Alia had visited the Vaatia College, Makurdi where there was a reported case of criminality by Ugondu youths.
He noted that the governor went to the college undisturbed and also ended the meeting undisturbed.
The statement read, "Governor Alia went to Vaatia College, Makurdi where there was a reported case of house breakage, thievery, desecration of tomb and vandalism.
"Traditional rulers of the host community, including Ter Makurdi and Mue Ter-Masev among others were there with some very prominent elders like Sen. Fred Orti, Sen. Daniel Saror and Chief Akange Audu amongst others.
"While addressing them, Governor Alia made it clear that those who perpetrated the nefarious acts of breakage, thievery vandalism and desecration of tombs must be arrested and brought to book to serve as a deterrent to others.
"Some youths of the host community on the orders of their elders quickly mobilized and arrested some suspects and handed them over to the security operatives that were present at the meeting.
"Governor Alia went to Vaatia College undisturbed, held the meeting and came out undisturbed.
"Governor Alia is loved by the people. He is the only Gov in the history of the state who has been walking the streets and markets ascertaining reports including monitoring the progress of work himself without being harassed by anyone.
"We advise media professionals to adhere to the principles and ethics of the profession in plying their trade. Credibility should be the watchword. Consciously propagating fake news should be avoided.
"The necessary principle of verifying news sources before going to press should remain sacrosanct.
"If journalists become more excited about copy and paste journalism, then, will it be difficult to be given the desired respect of "Watch Dog" of the society?
"This report is ill-intended, to say the least.
"It is advisable that we learn and adhere strictly to the principles and tenets of journalism. Let us learn to be investigative and always verify the truthfulness of any report we give.
"We can do better than copying news stories and pasting, otherwise, there are tendencies of copying a malicious and mischievous story like this one all the time."
The post Benue Govt Reacts To Report Of Youths Stoning Governor Alia In Makurdi appeared first on Naija News.