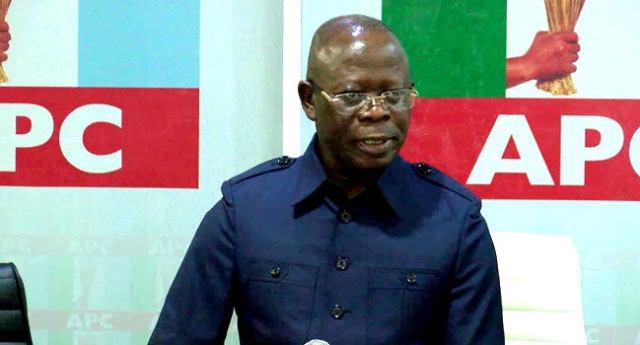 The former Governor of Edo State, Senator Adams Oshiomhole, has faulted the timing of the protest by the Nigeria Labour Congress (NLC) in Imo State on November 1 led by its President, Joe Ajaero.
Recall that Ajaero was arrested in the middle of the protest and strike action by the NLC in the state and released hours later with visible bruises, prompting allegations of torture against the Imo State Police Command.
Speaking during an interview on Channels Television's Politics Today on Wednesday, Oshiomhole said Ajaero was wrong to have been involved in the election of the NLC chairman in Imo State.
Oshiomhole stated that as a result of his assault two weeks ago, the NLC president banned flights out of the state in the lead-up to last Saturday's highly anticipated governorship election.
He said: "Ajaero ordered that no transport out of Imo [and that] Imo must be grounded. And not a few people wondered about the timing.
"If you don't want the governor, the more reason you should allow the people to go and vote — and vote him out — if most people share your opinion. But you cannot arrest democracy.
"The incumbent NLC president is from Imo State, and this is the second time they are having a showdown with the governor — and the issues are never really clear".
Oshimhole asserted that the first instance was over a dispute about the workers' preference in the election of the chairman of the NLC in Imo State Council.
The former NLC President said Ajaero must be seen to be above board and must not "drag himself into the little issues," particularly when he is dealing with his state.
He said: "The one that many people allegedly favoured, the president of the NLC coming from Imo, didn't like the person,
"They did their election; it was nullified, and a caretaker was appointed, and some of the workers felt that the man appointed was the person favoured by the president.
"Now, those issues about who is the chairman, who is not the chairman, led to a declaration of strike, and the mother union of the NLC president is the NUEE, which controls the power supply and they put off the power in Imo State.
"This latest one, about nine or ten days to the last election: Again, the NLC president went to Imo State over allegations of all sorts of things, but they are never specific. No wages, etc. and at the end of the day, we saw pictures that he was arrested."
The post Your Timing To Protest In Imo Was Wrong – Oshiomhole Faults Ajaero, NLC appeared first on Naija News.