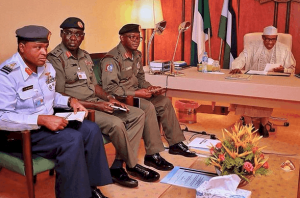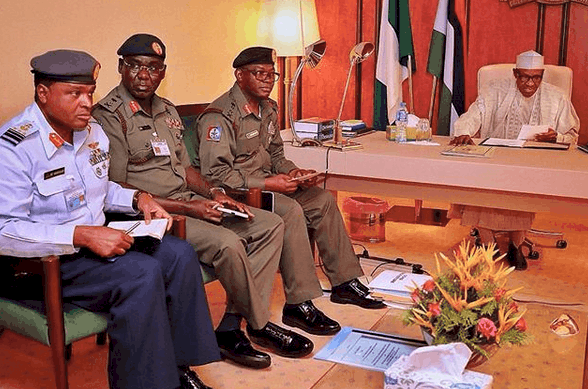 President Muhammadu Buhari on Tuesday finally bowed to pressure and sacked the country's service chiefs.
Sources around the Presidency and the security chiefs told DailyTrust that Buhari bowed to pressure following the failure of the service chiefs to tackle the rising banditry, insurgency and other security challenges.
One source close to one of the former service chiefs said: "It is not resignation, they were sacked.
"They have been expecting their sack since the beginning of this year, but nobody told them that this is when it will happen but it is like every day you wake up thinking anything can happen."
The source said the use of the word "resignation" by the Presidency in describing the exit of the service chiefs was for a reason only known to them.
"Ordinarily, if any of the service chiefs resign on his volition, you will suspect foul play including a coup.
"You are supposed to be suspicious of him because they are the pillars of the country's security.
"When the pressure was high on the president to sack the service chiefs, I had a discussion with one of them and he told me 'you know we cannot resign, if we do, it could be interpreted for something else.'
"Nigerians are expecting so much from the new service chiefs because the general opinion is that their predecessors have run out of ideas, hence they could not address the rising insecurity in the country," he said.
Another source dismissed claims that the new service chiefs resigned, saying "I'm surprised that they are saying they resigned. The issue of resignation should not be part of it.
"They were relieved of their appointment and you know they were there at the pleasure of the president."
He urged the new Chief of Defence Staff, Major-General Leo Irabor, to take charge of the security of the country.
"The former chief of defence staff was not in charge. General Irabor should be on top of the situation and take over. He should take charge; he is the chief of defence staff.
"To tackle the security challenges in the country, there must be proper coordination of the armed forces. This was lacking," he said.
The new service chiefs include: Maj Gen LEO Irabor as the Chief of Defence Staff (CDS), Maj Gen I Attahiru as Chief of Army Staff (COAS), Rear Admiral A Z Gambo as Chief of Naval Staff (CNS), and AVM I O Amao as Chief of Air Staff (CAS).