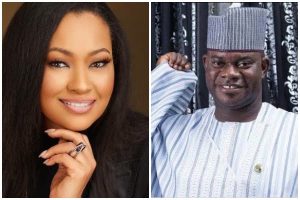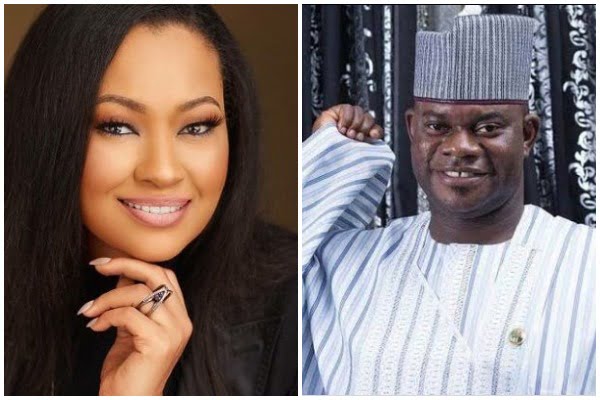 A former governorship candidate of the Social Democratic Party (SDP) in Kogi State, Natasha Akpoti, has faulted the award conferred on Governor Yahaya Bello by a group.
Naija News reports that the group, the National Council of Women Societies (NCWS) on Saturday conferred the award of the most gender-sensitive governor in Nigeria on the governor.
However, Akpoti, in a statement on Sunday, said the governor does not deserve an award because he is guilty of violating human rights and electoral offences.
She noted that the award fails to recognise the events of the 2019 elections where the state government allegedly violated her and other female opposition voices in the state.
Akpoti slammed the group for giving the award to the governor. Akpoti wondered why the council did not intervene when there were alleged cases of violation of female rights in Kogi State, including the alleged rape of Elizabeth Oyeniyi, among others.
She said: "NCWS can't be ignorant of the reportage by the many national and international observers where I was an observee. "Kogi under Yahaya Bello is the most female-unfriendly state in Nigeria as there is no female elected local government chairman, House of Assembly, and National Assembly member.
"All levels of elective positions are occupied by men. How has Bello advanced the interests of women of Kogi State and Nigeria that got him a 'He 4 She' recognition?
"The He4She is a solidarity movement started by the United Nations to recognise men who promote the principles of gender equality politically, socially and economically.
"With no female chairing any of the 21 local governments, no female member of the state House of Assembly, no female Representative or Senator from Kogi State.
"Such a sickening unprecedented achievement in the history of Kogi State and Mrs Laraba Shoda deemed him fit to wear the He4She crown?
"We have an all-male House of Assembly in the state. I am talking about an elective position in the state. So what made him deserve that award?"