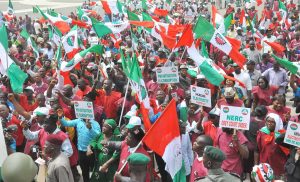 The Nigeria Labour Congress (NLC) has responded to those asking it to obey the order restraining it from proceeding with its industrial action.
Speaking with Arise News on Tuesday, NLC's General Secretary, Emmanuel Ugboaja, argued that the union members are not politicians who will be asked to go to court.
"We are not politicians that people will challenge go to court, go to court; it is not about going to court, we should have a culture of social dialogue. and what the ILO, the oldest agency of the United Nations, has deepened after the Second World War is to get people to discuss, is to get people to have conversations, not to be beaten up, not to be dehumanized, not to be threatened to go to court, go to court, no," he said.
"The attitude is to have people have conversations around the table, and that is what we have been seeking with the government, a round table discussion, a dialouge as social partners and not bully, what we are having now is a return to the SARS situation where people go about hooded brutalizing citizens and then you are told to go seek redress in court, that is not what our cause are meant for," he added.
Naija News reports that his comment comes just as the President Bola Tinubu led government continues to fault the labour union for going ahead with its industrial action despite the directive of the Industrial Court against it's demonstration.
The post 'We're Not Politicians That People Will Challenge To Go Court' – NLC Speaks On Court Injunction Barring Its Nationwide Action appeared first on Naija News.