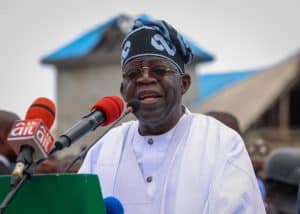 The Deputy Director of the Socio-Economic Rights and Accountability Project (SERAP), Kolawole Oluwadare has disclosed that the group reached out to President Bola Tinubu to stop the pensions of former governors who are presently serving as ministers and senators.
He, however, stated that they got no response.
Oluwadare said this during an interview with  Punch.
He lamented that the president's lack of response to the human rights group letter has shown his position on the effective use of public funds.
He argued that the huge and unnecessary drain on Nigeria's resources is coming from the funds of the federal government.
Speaking further, the SERAP deputy chairman insisted that for Tinubu to have appointed the former governors despite being aware that they are already collecting pensions shows that his administration does not understand what it means to cut the cost of governance.
He said, "We also wrote to the President about former governors and deputy governors who are in the National Assembly and used the moment to ask him to stop their emoluments. The President did not do any of these findings. Does that not indicate the position of the current administration on the effective use of public funds? There are pension laws in more than 20 states in Nigeria.
"If there is a huge and unnecessary drain on Nigeria's resources, this drain is the funds from the Federal Government, apart from the loans most of them have taken. Again, for the President to have appointed these individuals as ministers knowing that they are already earning pensions in their various states is a huge drain on the resources of the country, and there are many instances that show that this administration has yet to understand or take action to cut the costs of governance.
"Another fact is that the government has yet to take action to cut the cost of governance and this huge cost allocated to recurrent expenditures; salaries, emolument, and allowances are at the expense of poor Nigerians who could make better use of these funds if you have spent it on health care, roads, and other things, including security.
"More than 130 million Nigerians are poor, according to the 2019 National Bureau of Statistics report. What is the President doing about this? It is not enough for the President to tell Nigerians to tighten their belts and make sacrifices. He ought to lead by example. He ought to set that precedence in cutting the cost of governance for his office, but he has yet to do that."
The post We Wrote A Letter To Tinubu And Asked Him To Stop The Pensions Of Former Governors – SERAP Deputy Chairman Reveals appeared first on Naija News.