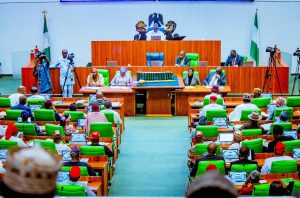 The House of Representatives has said it is concerned about the statement made recently by the former Justice of the Supreme Court, Musa Dattijo.
Recall that retired Justice Datijo, at a valedictory session organised in his honour last Friday, had said that the CJN wields enormous powers capable of derailing the course of justice.
Dattijo said the CJN is the Chairman of the National Judicial Commission (NJC), which oversees both the appointment and discipline of judges, and he is equally the chair of the Legal Practitioners Privileges Committee that appoints Senior Advocates of Nigeria, and other legal institutions.
The former justice stated that there is a need to prune the powers of the CJN, given the oversight functions he exercises on the number of legal institutions across the country.
Speaking in an interview with The Punch over the weekend, the House Committee Chairman on Judiciary, Oluwole Oke, said lawmakers in the Green Chambers were concerned about the issues raised by Dattijo.
The lawmaker representing Obokun/Oriade Federal Constituency in Osun State said work was already ongoing on a number of issues raised by the retired Supreme Court justice in his valedictory address.
He said, "We are concerned about the Datijo's revelations, but as it is now, it is an allegation.
"The judiciary is an independent arm of government, though, we have two standing Committees of the House overseeing the judiciary."
On whether the House Committee on Judiciary would look into the issues Datijo raised in the course of the next constitutional amendment, Oke said, "We will look into the issues. Already, we have a referral at hand which we are working on. It is about the lack of adequate number of Justices at the appellate court and the Supreme Court which has hampered efficient and timely delivery of justice in Nigeria."
The post We Are Concerned About Allegations Raised By Justice Dattijo – House Of Reps appeared first on Naija News.